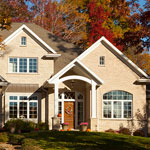 The number one tip for giving your home great curb appeal in the fall is to keep your lawn free of leaves. Buyers may drive right past your home if they feel like raking leaves would be too much work for them if they bought your home. Keep up with this chore to give your home a tidy and maintenance free look.
Cooler temperatures also mean it's time to replace your tired annuals with colorful mums or kale. Clear out your planting beds of summer foliage and drop some blooms into your window box or porch planter. Remember that you still need to water these plants to keep them looking fresh.
If you have already moved out or can't maintain plant watering, you can brighten your porch with a grouping of three large pumpkins. Want them to last even longer? Don't carve your pumpkins for Halloween. You can keep an uncarved pumpkin on your porch through Thanksgiving and get two holidays out of one purchase!
Even though it's Halloween time, real spider webs on your porch need to be cleared away regularly. No need to scare away buyers with frightful spider webs.
Need ideas for keeping your home open house ready for the holidays? Click here for simple tips.