You're ready to update your space while you're spending more time at home. Consider these 2021 design trends as you conceptualize the ideal theme for your living space.
Color Is Key
Many homeowners are planning on painting this spring when windows can be opened for better ventilation. Leading design influencers have determined a few noteworthy color trends for this year.
Earthy, grounded shades and human skin tones are seeing a comeback. Owners seeking harmony at home can find a variety of options for a soothing, relaxing retreat.
Pantone's colors of the year are Ultimate Gray and Illuminating Yellow, conveying a message of endurance and hope when choosing to design with the two contrasting colors.
Add a vibrant, striking color like teal or bold, wallpaper patterns like palm leaves or elephants on accent walls to create the feel of a tropical getaway to distant shores.
Plenty Of Plants
Plants are refreshing, helping filter the air for us, and add lively yet natural color to the home. And you don't need a green thumb to embrace the idea of plants in your space. Try easy to care for plants like succulents, ferns, spider plants or ivy to add green to your space. Begonia or lavender can offer a slight pop of color to the mix of greenery. Plants are contemporary and practical, and current design trends like macrame plant holders are readily available for purchase to easily showcase your plant collection.
Old Wood Is Good
There is a common debate among homeowners when choosing wood finishes for their space. Trends indicate that you don't need to buy new to have design flair.
Shabby chic is in. So refurbishing and painting the vintage sideboard you discovered at the resale shop with your favorite color is on point.
Cottagecore is a trending design influence that promotes reclaimed wood with contrasting grain and texture for floors, ceilings, or focal pieces like islands in the kitchen.
Elegant vintage ties classic wood pieces like a buffet with stained glass windows in with modern finishes like brushed gold fixtures to create an old and new blended feel.
Find more homeowners tips.
Staging your home wisely can help you attract a larger pool of potential buyers. When sellers properly stage their home, according to RIS Media's data, they receive an average of $2 in increased sale price for every $1 they put into smart staging. Try these five methods to make the most of your dollars and get your home ready to show:
Neutralize
Paint walls in soothing colors
Aim for universal appeal in design
Keep accessories to a minimum
Modernize
Add updated handles on cabinets
Refinish hardwood floors
Consider replacing front door
Sanitize
Get carpets professionally cleaned
Deep clean appliances and drawers
Make sure your windows sparkle
Depersonalize
Remove family photos
Take down busy wallpaper
Erase traces of personal hobbies
Maximize
Declutter to open up space
Add shelving to get items off the floor
Add a mirror to reflect light
Mel Foster Co. is ready to assist you during all steps of the home selling process. Find suggestions on selling to millennials and other homeowner selling tips.
You've been dreaming of designing your own peaceful bathroom retreat where you can relax and unwind. It's time to convert your basic bathroom into a spa-like oasis that offers you the solitude you seek.
Upgrade Features
Pamper yourself by upgrading your shower with a massage or rainfall shower head, especially if you don't have a large soaking tub to indulge in. Choose a unique shower head that has several features like a waterfall, high pressure water or even a hand-held option. Add heated floors in the bathroom for even more luxury.
Add Elements of Nature
Incorporate houseplants and flowers to add natural color and life to the room. Indoor plants are an easy way to turn your bathroom into a more tranquil setting. Consider bud vases that you can fill with blooms from your own garden or a larger vase you can fill with your favorite flowers.
Select Soothing Accents
Choose paint colors that provide a relaxing atmosphere. Treat yourself to deluxe new towels and a bathmat that feels plush and even a little lavish. You deserve it.
Declutter and Organize
Keep bathroom essentials you use on a daily basis handy, but store away the rest of your care products in organized bins in the cabinet. Allow an easy, regular routine without adding angst over an overcrowded countertop or cluttered drawers.
Introduce Aromas
Try infusing essential oils into the room or add scented candles and soaps that evoke a happy memory or calming effect. Lavender or eucalyptus tend to be popular options, but select whatever scent makes you the happiest.
Consider the many different ways you can update your home while increasing your property value.
The kitchen gets the most attention and comments from potential buyers. It's often the room that is easiest to fall in love with…and the one that is easiest to hate. If you are considering updating your kitchen to maximize resale value, include these trends that buyers want to see.
Embrace Grey and White
To create a kitchen that sells, ditch complicated, outdated color themes and opt instead for the simplicity and cleanliness associated with greys and whites. Minimalism is an increasingly popular design trend when it comes to kitchens. White is associated with clean and bright, making this a great color to go with when thinking about cabinets, décor and kitchen furniture.
Grey, on the other hand, can be a very calming and charming color. It's great to use when you're trying to create an inviting environment and centralized hub for families.
Think Natural
Instead of making everything in a kitchen look brand new, try a more natural, lived in look. Buyers today are looking for high-quality material that has been creatively reused and repurposed to add charm to a home. Try incorporating natural-feeling elements into your kitchen to create a warm, inviting environment for potential buyers when they walk through the home for the first time. Examples of popular natural choices include:
Reclaimed wood for ceilings or ceiling beams
Edison bulb lights or industrial lighting fixtures that hang exposed from the ceiling
Reclaimed/repurposed wood for floors or kitchen island siding
Heavy butcher block counters in place of granite or marble countertops
Repurposed subway tiles as charming back-splash features
By adding a few warm features like this, you can add character to a home while still keeping it updated and modern.
Focus on Utility
Buyers don't just want kitchens to look nice, they want kitchens to function properly. Help find a good balance between aesthetic design and actual function. Try some of these techniques:
Hidden storage drawers that pull out for easy access
Built-in storage racks in pantries
Exposed, easily accessible glass containers that fit into the overall design of the kitchen
Mini center islands on wheels that can be moved around various areas of the kitchen based on need (next to the sink, next to guests, off to the side and out of the way)
A great looking kitchen will draw attention from prospective buyers. A great looking kitchen that also has great function will be unforgettable and help you sell your home.
Want to know what home improvement project will give you the best return on investment. Ask a Mel Foster Co. agent.
Small details can make or break your kitchen renovation. Avoid stress by going through this list before you start making purchases.
Measure Everything
This extra step will save time, money and headaches in the long run. The last thing you want is the refrigerator or dishwasher not opening all the way because the island ended up being too close.
Choose a Timeless Backsplash
It may be tempting to choose a trendy tile layout, but you may quickly become bored with your decision. You'll also have difficulty selling later on if your kitchen looks outdated due to a very specific design choice. Stick to classic white coloring. White is always on trend.
Decide if a Splurge is Worth it
Sometimes spending a little more now will save you in the long run. If an energy efficient appliance is a little more expensive, it might be worth it to upgrade so you have lower energy bills every month. It's important to prioritize needs over wants, but sometimes a want is worth the happiness or convenience it will provide.
Consider Open Shelving
A few rows of open shelving can help break up the "boxy" feel of some kitchens. Even an addition of a few shelves can help the kitchen feel more open and also offer you the opportunity to show off some photos or nice dining ware.
Not sure how much upgrading to make to your home before you become the most expensive house in the neighborhood? Ask a Mel Foster Co. agent for comparables in your neighborhood.
The hours of daylight are starting to get shorter with the approach of fall. Soak up all the sun you can by creating a sunroom in your home with these elements.
Comfortable Furniture
Your sunroom should be a second living room. Having a nice area rug or cushioned furniture is a great way to make the space more comfortable. Try to pick natural colors to go with the natural light in the room.
Environmental Controls
Add a space heater or ceiling fan to your sunroom to create a comfortable temperate. And don't forget you should run your ceiling fan in the winter to push the warm air down. Just reverse the fan's direction for winter use. If you're considering a larger investment, adding a fireplace will create a room you can use even when there's snow on the ground.
Privacy Shades
It's nice to be able to see out and enjoy the view, but it's even nicer to have an option for privacy if you want it. Shades or window treatments also keep the room cooler or warmer depending on the season and sunshine.
Greenery
No sunroom is complete without plant life. Even low maintenance plants will make you feel like you're out in nature. If you have more of a green thumb, you can put multiple types of plants with vibrant colors in your sunroom. As a transitional space between your home and the outdoors, the sunroom needs to have thriving plants.
Want more ideas for your sunroom? Check out this weekend's open houses.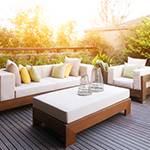 Keeping your deck in top condition can be difficult, especially if you're inexperienced with outdoor maintenance. Follow this list to figure out what will help, or hurt, your deck.
Do Annual Maintenance
Once the weather reaches about 70 degrees, it's time to prepare your deck. Use a utility brush to scrub where the deck is dirty, especially where mold or mildew is growing. The deck needs to be clean and free of debris so protective sealers can soak into the wood.
Don't go Overboard with the Pressure Washer
Using a pressure washer is the fastest way to clean a deck, but it can sometimes gouge the wood if you're not careful. Be sure to keep the pressure washer on low initially and keep the nozzle at least eight inches from the surface. If you're concerned about using a pressure washer, you can always hire a professional.
Do Cover Furniture and Plants before Cleaning
This is a pretty obvious tip, but new deck owners often forget it. Be sure to remove or cover anything on the deck while cleaning. You don't want anything to be splashed on your furniture or plants, especially stain or sealer.
Don't Assume Pressure-Treated Wood is Maintenance Free
Pressure-treated wood may resist rot and insect infestation, but it still needs to be sealed to resist water and sun damage. Use products specifically made for pressure-treated wood.
Do Be Vigilant about Damage
Throughout the year do several checks on the status of your deck. It's important to catch any damage early. You'll thank yourself by stopping problems before they spread and become more difficult and expensive to fix.
Don't Leave Your Deck Uncovered
Large umbrellas and awnings can dramatically extend the life of your deck by reducing the amount of sun that beats down on the wood. Shade structures protect your deck, and as a bonus, provide shade during the summer.
Whether you're working at home fulltime or doing some afterhours tasks, having an in-home office is crucial to being productive. If you want to construct a space where you can get work done be sure to follow these tips.
Make the Most of Your Space
One of the biggest constraints for home offices is the amount of space available. Some people turn spare closets into their office and while you may have more space than a closet, you shouldn't ignore their techniques. You want to maximize the amount of space you do have. Make sure cable management is efficient, utilize nooks and crannies and be sure to plan accordingly. Don't go overboard and buy massive amounts of storage, just leave a little extra room for growth.
Fill Your Office with Comfortable Furniture
At the office you may not have control over the type of chair and desk you use, but at home you have complete control. Make sure you find a desk large enough to accommodate everything you'll be using it for. If you're spending a lot of time in your home office, don't try to go cheap when it comes to a nice chair. You want a comfortable chair with plenty of support so you don't end up with any health problems.
Make Your Space Personal and Fun
Your home office should be a reflection of you. Include family photos, hobbies and any interests you have. This space is entirely yours, and whatever you need to be productive or happy should be included.  Even something as simple as a rotating wallpaper or screensaver on your computer can keep your office interesting.
If your resolution this year is to get organized, avoid these common mistakes. You'll be more efficient and less stressed by maintaining order in your home.
Mistake #1 Confusing Neat with Organized
Having piles neatly lined up on the counter unfortunately doesn't mean you are organized. If your flat surfaces seem to constantly be filling with clutter, designate a spot in your home for each item. Soon you'll start to notice the piles will appear less frequently.
Mistake #2 Using the Fridge as a Message Center
It may seem like the central hub of your house, but everyone goes to the fridge for food not information. Homes need a place where everyone goes for messages. Instead of cluttering your fridge with notes, messages and reminders, create a bulletin board where everyone knows they can find any updates they need.
Mistake #3 Too Many Storage Bins
Having too much storage is actually an issue, especially if you aren't using it efficiently. You may be replacing your clutter with larger and boxier clutter by adding so much storage. Instead, consider reorganizing the storage you currently have. If you can take the storage bins you have and organize them in a closet or cabinet, you'll be able to utilize all of your storage effectively.