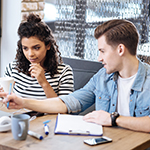 It can seem daunting when searching for a new home, especially as a first time buyer. Here are a few tips to help you prepare for finding your new home.
Determine a Budget
Creating a budget before looking should be your top priority. Focus on both the down payment you have saved and earmarked to buy your home and the monthly mortgage and insurance payment first. It's best to estimate on the higher end and then try to keep expenses as low as possible.
Determine Needs and Wants
When buying a starter home, carefully choose the features you need and not just those you'd like to have. Do you want more space or to be closer to work? Create a list and try to check off as many as you can when viewing a home. But don't confuse wants with needs.
Consider All Properties
View as many homes as possible. You'll learn what you like, what you don't like and may even come away with a few interesting ideas for your final choice. Be sure to keep a journal or list so you're able to reference the data later. It can get very overwhelming to keep home attributes straight after a few weeks of searching.
Work with a Professional
Avoid the hassle of tracking new listings and scheduling showings and consider working with a Mel Foster Co. agent instead. There is no cost for the buyer, and you'll have someone in your corner with industry knowledge and experience. Contact an agent today.