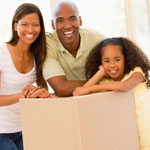 You landed that new job in the Quad Cities, but now what do you do to find a home? Mel Foster Co. offers free relocation services that can help you explore neighborhoods, schools and cities that are a match for your criteria.
Your agent can help you pinpoint options that are near your new job or the amenities you most desire. Do you want riverfront? A large wooded property a few minutes from town? A renovated loft style condo without any yard work? The Quad Cities is such a diverse area, it's easy to find a match, no matter how specific your needs seem.
Many of the area's largest employers count on Mel Foster Co. relocation specialists to welcome new hires or transferees to the Quad Cities. Deere and Company, ALCOA and Thomson Prison employees have all used the free relocation services to get acquainted with their new town.
Getting started is easy. Click here for an overview of free relocation services or call 800-367-1134.