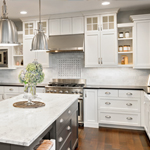 Small details can make or break your kitchen renovation. Avoid stress by going through this list before you start making purchases.
Measure Everything
This extra step will save time, money and headaches in the long run. The last thing you want is the refrigerator or dishwasher not opening all the way because the island ended up being too close.
Choose a Timeless Backsplash
It may be tempting to choose a trendy tile layout, but you may quickly become bored with your decision. You'll also have difficulty selling later on if your kitchen looks outdated due to a very specific design choice. Stick to classic white coloring. White is always on trend.
Decide if a Splurge is Worth it
Sometimes spending a little more now will save you in the long run. If an energy efficient appliance is a little more expensive, it might be worth it to upgrade so you have lower energy bills every month. It's important to prioritize needs over wants, but sometimes a want is worth the happiness or convenience it will provide.
Consider Open Shelving
A few rows of open shelving can help break up the "boxy" feel of some kitchens. Even an addition of a few shelves can help the kitchen feel more open and also offer you the opportunity to show off some photos or nice dining ware.
Not sure how much upgrading to make to your home before you become the most expensive house in the neighborhood? Ask a Mel Foster Co. agent for comparables in your neighborhood.