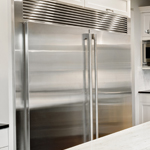 Don't assume everything is included in your home purchase. It's important to get everything in writing so you're not left feeling cheated. Here are some common house features buyers think are included in the deal, but aren't necessarily automatically included.
Appliances
It's not always the norm when buying a home that all appliances are included in the sale. Things like refrigerators, washers and dryers, dishwashers and microwaves may be going with the seller. If you want a specific appliance left behind, make sure to clarify in writing that it's a condition of the sale.
Window Coverings.
Sometimes there are shades or drapes in the home during showings. The shades may be fully fitted for the window and attached, but the seller may be planning on taking them once they sell the home. If you don't see it written anywhere, get the inclusion of window coverings in writing. Specify you want the existing window coverings either included or removed if you don't like them.
Mounting Materials
It's common for homes to have TV's mounted on the wall with a bracket supporting it. Be sure to ask. It may not actually be included with the sale of the home.
Lawn Care Equipment
If the lawn at the home you are buying is large, you may want to negotiate with the sellers for any lawn care equipment you need. If the lawn requires a riding lawnmower the previous owners may be willing to include it in the sale.
Find more tips for buying in the Mel Foster Co. blog.