Ready to dive into a home remodel project? Aside from creating a realistic budget, schedule a meeting with your Mel Foster Insurance agent before selecting a contractor to determine how the upgrades will affect your homeowner's insurance coverage. Consider a few questions to be sure you're ready to proceed.
Who Should Do The Work?
Feel confident in your choice of contractor and team. Reliable, professional contractors often have reviews and references available through the Better Business Bureau. The contractors should provide you with proof of workers' compensation and liability insurance before the work begins. Hiring a subcontractor or paying a friend to complete the job makes you an employer, which means you should purchase the worker's compensation insurance yourself to cover liability in case of injury. Know who is doing the work and how this affects your insurance responsibility.
Will I Be Covered During Renovation?
Your home insurance company will typically insure the building materials you'll need for renovation. But how much is covered? You may need to raise your coverage limits before beginning your project, and your Mel Foster agent can help settle this with you. Determine if your policy provides sufficient allowances for the unexpected, like if a fire struck and destroyed both your home and the building materials. Some insurance policies also have limitations on whether dwellings under construction or vacant for more than a set number of days are covered. Discuss all options to find the best insurance coverage so you're protected
Does The Remodel Affect My Coverage Limit?
Most home insurance policies require you to insure your home for a minimum of 80 percent of its replacement value, while a Mel Foster home insurance policy covers 100 percent of your home replacement costs.
According to the Independent Insurance Agents and Brokers of America, one in four remodeling projects increases the home's value by more than 25 percent. It's essential that your insurance coverage reflects your remodel's impact on the value of the house. Your agent can determine if your policy limits are adequate to cover potential rebuild costs, including the remodel, if damages were to occur.
Find more insurance tips for homeowners.
Insurance coverage is especially important when moving from one residence to another but often gets excluded from the list of priorities. Gaps in coverage can arise during the transition between residences with both personal property and personal liability. Consider a few scenarios that may arise during the move and how having the right policies in place can help to alleviate coverage gaps.
Personal Property Coverage
During a cross-country move, several days can pass between leaving the old house and moving into the new one. One way to maintain coverage on personal property during this transition is to keep the homeowners policy on the old home in force until the coverage starts on the new home, even if you have sold your old home. Most insurance policies have a standard coverage concerning personal property within the residence, but separate exceptions for property outside the residence, like when in a storage facility or on the moving truck. Be sure to consult your Mel Foster Insurance producer to clarify your terms before you begin the move.
Personal Liability Coverage
Unlike a policy that covers the physical property during the move, personal liability provides coverage for bodily injury and property damage sustained by others for which you or covered residents of your household are legally responsible. Personal liability insurance can begin on the move date and would then apply during the trip and transition. Some restrictions apply with policy coverage and limitations on value are often implemented by insurance companies. Read the fine print and have all the facts before issues arise during the transition.
Insurance Tips
Do not cancel the current insurance based on instructions from third parties like the mortgagee, title company or closing attorney. As with any insurance, the agency should never make a change to add, delete or change policies without explicit instructions from you. It's always best to handle any wanted changes or clarifications yourself.
A majority of losses from fire, theft or windstorm are covered under the basic personal property insurance policy. If the moving truck overturns, most authorities would apply damage to personal property as the result of the vehicle hazard.
Some potential causes of loss are unique to moving, such as breakage, scratching or lost items. The homeowner may be advised to purchase protection from the moving company directly in some instances.
Schedule an appointment with Mel Foster Insurance to verify proper insurance coverage for your upcoming move.
Your home is one of the largest financial investments of your lifetime. The start of a new year is a great time to check if you have adequate insurance coverage on your home and its contents. Or maybe you're a first-time home buyer and acquiring a policy is new to you. As life continues to change, lining up proper asset protection is financially smart and offers the peace of mind you deserve.
Homeowners insurance is usually required by mortgage lenders, so first-time homebuyers need to get a policy in place prior to purchasing a home. A Mel Foster Insurance Producer can provide a free quote so your home buying budget is accurate.
For existing homeowners, think about what has changed in your home over the past year. If you made significant home improvements or splurged on a big screen TV or exercise equipment, the value of those additional items should be included in your coverage.
Your insurance policy should cover the cost to completely replace your home in the event of a tragedy and not just be the cost of the home assessment value. Working with an insurance expert with help guarantee that your policy coverage is complete regardless of what happens down the road.
Get connected with a Mel Foster Insurance agent today.
Keeping your home safe is a worry for every homeowner. These tips will help protect your home against potential problems.
Prepare for Severe Weather
Severe weather preparation is crucial to avoiding damage in the event of storms. Make sure your shingles on the roof are secure, gutters are clean and your sump pump is functioning properly. If you're concerned about large trees near your house falling, take measures to make sure the tree falls away from your home, or just remove it entirely. Most tree trimming companies are capable of weighting the tree in a specific direction to control the fall position.
Discourage Break-ins
Preventing break-ins takes a few easy steps. When you leave your home, be sure to leave a few lights on. If a burglar suspects someone may be home, they'll move on. Do your best to hide more expensive items. Keep valuable items away from windows. Finally, be sure to lock all windows and doors. It seems obvious, but over 40 percent of burglaries occur without the use of force.
Get Covered
Sometimes all the prevention you do won't be enough. That's where having a home insurance policy is extremely important. Policies can cover a wide variety of damages, and often replace damaged or stolen items. To get a free home insurance quote, click here.
Mel Foster Co. Inc. is proud to announce its insurance division, Mel Foster Insurance, has earned a spot in the 2017 Leadership Circle for Integrity Insurance, a property and casualty carrier.  This recognition honors the top-tier of agencies for their work in 2016. To achieve Leadership Circle status, Mel Foster Insurance met specific criteria based on premium, profitability and growth.
Integrity President Jill Wagner Kelly stated, "Mel Foster Insurance is among the best of the best. They are a strong partner who is committed to providing top-notch service and expertise to policyholders. It's a pleasure to see them thrive and write profitable business with Integrity."
"This recognition is truly an honor. While the criteria for receiving this leadership status include reaching milestones for premium, profitability, growth and loss ratio, it's the staff we have at Mel Foster Insurance, that earns and keeps business from local clients, that really helps set us apart," said Mel Foster Insurance President Marc Engels.
Mel Foster Insurance is located at 3218 E 35th St C, Davenport, IA. For more information on their services, visit melfosterinsurance.com.
Dealing with the aftermath of a flood is difficult. Follow these helpful tips to make sure your family and home are protected.
If you have any concerns about living in an area prone to flooding, first make sure you are covered by your homeowners insurance. Often flood damages aren't covered in standard homeowner policies and require separate insurance. Your Mel Foster Insurance associate can verify your coverage and make a recommendation. Be sure you have an insurance policy for floods that covers structural damage.
Your coverage can give you peace of mind, but would you know what to do if you suddenly found yourself in a flood situation? The first step is avoiding any harm to you or your family. If there is standing water, make sure no electricity is running through it. Try to avoid being in the water, unless you're certain it is safe. Next, document the damages with photographs for your insurance company. It's important your agent sees the damage caused by the flood, to help you with your claim.
Contact your Mel Foster Insurance associate and inform him or her of the damages. They may ask for the photographs or other documentation. They may then give you the go ahead to clear out the water to prevent further damage. Once everything is dried out, inspect the foundation of the home for warping, cracks and holes. If there is any further damage, document it with photos and contact your insurance associate about additional damages.
If you have any questions about flooding or insurance, contact Mel Foster Insurance at http://www.melfosterinsurance.com/ or call 563-359-5446.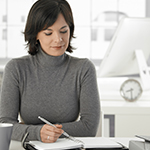 Creating an inventory of your home's contents is important, not only for insurance purposes, but also for creating peace of mind. It helps verify what items you own in case you suffer a loss due to fire, a natural disaster or burglary.
Make a list of all the items you own that are important to you. Electronics, jewelry, artwork, family heirlooms and furniture are items you want to insure. Once you have the list, add the serial numbers, brands and estimated costs for each item to show proof of ownership. It's a good idea to take photos of your items to show their condition.
Once you've collected this information, store it in several safe locations. One copy of the information should be sent to your Mel Foster Insurance agent, another should be stored on your personal computer. It's also important to have another version stored on a USB drive kept outside of your home or use cloud storage. The cloud is highly recommended because there are free services accessible from any computer.
You can never have too many copies of this information. Physical copies are also a great idea because they're so reliable. Getting a safe-deposit box at your bank, or investing in a fireproof safe are perfect ways to protect your information in case you can't access the information anywhere else.
Click here to contact a Mel Foster Insurance agent for help in getting your home inventory started.
You've compared the costs of renting vs. owning, and home ownership is in your future. As you budget for new household expenses, be sure to include homeowners insurance, which is usually more expensive than what you are paying for renters insurance.
Having enough coverage with your homeowners insurance will give you peace of mind knowing that your home is protected. There are a few things that you should consider when choosing a homeowners insurance policy.
You need to be sure that you understand what most standard policies cover. It usually includes exterior and interior damage from vandalism, fire and weather incidents. It also may cover out of pocket expenses, damage to outside structures and even medical costs if someone is injured on your property. It also covers personal property, which is why it's so important to have photos and to keep purchase receipts of your most expensive assets.
Also keep in mind that whenever you add something to your existing home, such as a porch or an extra bathroom, you should see if your policy needs to be adjusted. Renovations and additions can add significant value to your home and you want to be sure that the new investments you have made are also covered by your insurance.
One thing that is missing from some standard policies is coverage for flood damage. Ninety percent of damage from natural disasters occurs from flooding. Insurance providers usually offer an additional policy that will have insurance for any flood damage that may occur. Keep this in mind if you have a finished basement.
Often it can take up to 30 days for new policies to go into effect. So don't delay any longer, contact Mel Foster Insurance today.
The first thing you need to do is assess the damage to your property. Always be sure that you aren't in danger and that the storm is completely finished. Start by checking the outside of the home for any damage to the roof, siding and windows. You should also make sure that there are no downed trees or power lines in the area.
Step Two: Call Your Insurance Agent
After you have assessed the damages, your next step is to call your insurance agent to report any damage. Be ready to describe the situation and all of the damage that occurred. Make sure you also have your policy and account numbers ready when you call to speed up the process. Click here to find your Mel Foster Co. Insurance agent.
Step Three: Document The Damage
Before you begin making repairs, make sure you document the damages with photographs. This will prove that the damage actually occurred and will help your insurance agency help you. Once you have documented the damage, make your home safe and ensure no further damage is caused. Keep receipts for any work or materials that you are purchasing to repair your home. It's important to note that if you must leave your home you should also keep receipts for hotel rooms and restaurants. Depending on your insurance policy, these expenses may also be covered.