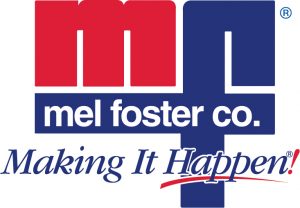 Mel Foster Co. held its annual awards reception last night at the Rhythm City Casino Resort in Davenport, Iowa. Rob Fick, president and CEO, Lynsey Engels, president real estate brokerage and Marc Engels, president of Mel Foster Insurance, honored and recognized 130 award winners within the organization for their 2017 achievements.
Fick congratulated sales associates and staff on a strong year and shared with them, "Our agents and staff are some of the best in the industry and the reason for our success. We've just finished a very successful year and indications show 2018 will follow many of the same market trends. The economy is still robust, low interest rates continue to make home buying very affordable by historical standards, and more people are employed and in a financial position to buy a home or business."
The commercial division, led by Thad DenHartog, continued to dominate the market. Their sales volume continued to reach record-breaking levels with a five percent increase in 2017. Mel Foster Commercial Real Estate Services was ranked number one in the Quad Cities Commercial MLS with over 42 percent of the market share volume in 2017, up 16 percent from 2016.  The next competitor had 28 percent of the commercial sales volume. Three of the company's commercial brokers ranked in the top 5 in the Quad Cities Commercial MLS.  "We are thrilled to see our commercial division continue to hold such a strong position in the Quad City market," said Engels.
Mel Foster Insurance continued to grow its footprint in the region and acquired Frazier & Associates of LeClaire, Iowa in 2017. The insurance division increased both total premiums written and policy count over five percent from 2016 and client base increased by 14%.  Marc Engels, president of Mel Foster Insurance, said, "We are uniquely positioned in the market as a local full-service, independent agency with specialized professionals focused on serving our clients with business risk management, employee benefits, individual/group retirement planning, and personal insurance solutions. We are proud that we added 1,283 policies in 2017 exclusive of our acquisition of Frazier & Associates. We have a 95.4% client retention rate agency-wide, which is a testament to the exceptional service we provide to our personal and business clients. We expect our growth and retention to reach new heights in 2018 in part due to the strengthening economy."
The residential real estate sales team gave another remarkable performance in 2017 with a nine percent increase company-wide in sales volume and number of transaction sides (either listings or selling) over the previous year. All nine office locations reported an increase in sales volume with the Galesburg office leading the way with a 34 percent increase from last year. Company-wide, residential agents averaged 17 transactions in 2017, an increase of at least one per agent. The average time to get homes sold was successfully lowered from 61 days to 55 days in 2017.  In the metro Quad Cities, sale prices rose five percent in 2017 for an average sales price of $191,349 per the Quad Cities Area Realtor Association.  Eleven residential agents were in the top 10 of their respective MLS compared to nine last year.
Construction of new homes surged in 2017 as Mel Foster Co., who is the largest land developer in the Quad Cities continued to develop neighborhoods on both sides of the river. The company developed more than 165 residential lots in six different subdivisions in both Iowa and Illinois in 2017 with plans to develop over 500 lots in future additions.  Lynsey Engels, president, real estate brokerage said, "The increased demand for new construction lots is a great indicator for a strong market in 2018.  We are pleased to be positioned to meet this higher demand with a wide range of neighborhoods offering lots in multiple price ranges."
The high numbers across all the division are the result of the tireless efforts of a dedicated team of professionals and a focused strategy to provide the best real estate and insurance experience. "This is an exciting time for everybody within Mel Foster Co. We posted the best year since the housing bubble peaked in 2008. Our success would not be possible without the hard work of every single person within each of our divisions," Fick concluded.
In addition to another impressive year of sales growth, Mel Foster Co. welcomed 26 new agents and staff into the company in 2017. Mel Foster Co. has residential offices in Bettendorf, Clinton and Davenport, Iowa and Galesburg, Geneseo, Kewanee, Moline and Savanna, Illinois.
Are you a snowbird? Do you "fly south" for the winter? Why continue to rent, especially if you find yourself returning to the same place year after year. Try using Mel Foster Co.'s free relocation services to help you find and purchase a second home in your favorite winter destination. Our vast network of contacts will help you find an agent wherever you spend your winter.
Here are just a few things that we offer:
Help you find an agent in another state
Provide cost of living comparisons
Help you find a mortgage company
While you're basking in the sun in your winter get-away town, thoroughly survey your favorite neighborhoods. How's the traffic when the population is at its winter peak? Are stores or restaurants more crowded at certain times of the day? This information will give you an idea of what to expect during winters to come.
Ask your agent about renting out your winter home in the months that you're away to generate more disposable income. If you pick the right property, it may pay for itself.
Contact a relocation specialist and start making connections in your winter community.
Feel like everybody's speaking a different language when it comes to real estate? Get into the conversation and get comfortable understanding what's being said. This short glossary helps buyers and sellers navigate industry terms.
Appraisal – the determination of the worth of something by a professional, in this case the market value of a property. An appraiser uses an analysis of local market data along with the characteristics of the property. Your bank or other lender may refuse to loan you money if the appraisal price is lower than the loan request.
Closing costs – the entire package of miscellaneous expenses paid by the buyer and the seller when the real estate deal closes. These costs include the brokerage commission, mortgage-related fees, escrow or attorney's settlement charges, transfer taxes, recording fees, title insurance and so on. Closing costs are generally paid through escrow. Jump ahead if you're lost after "escrow."
Contingency – conditions that have been built in to a real estate purchase or sale agreement must be met before the sale can be completed and legally binding. For example, a buyer's contractual right to obtain a professional home inspection before purchasing the home.
Disclosures – The seller is required to provide the buyer with certain information (disclosures). The number and types of disclosures vary by region, but they may include information about conditions affecting the value or enjoyment of the property. The seller may know of an earth-shaking construction project that is about the start around the corner, which would impact the enjoyment of the property.
Escrow – Funds, securities or other assets held by a neutral third party (an escrow company or agent) on behalf of the other two parties (in this case the buyer and the seller). The buyer will deposit the payment in an escrow account, proving to the seller that he or she will be able to uphold the other end of the deal. The escrow service will pay the funds to the seller once certain conditions pertaining to the sale have been met.
MLS – Multiple Listing Service. An MLS is an organization that collects, compiles and distributes information about homes listed for sale by its members, who are real estate brokers. All properties for sale are assigned an MLS number.
Mortgage – A loan that helps you purchase your house. You sign a contract promising to pay back the loan with interest over a certain number of years. The components of your monthly mortgage payments may be referred to as PITI:  principal (the money that goes into paying down the loan), interest (which is paid to the lender for letting you borrow the money), (property) taxes and (homeowner's) insurance.