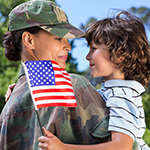 Throughout the year and especially during the month of May, we recognize and honor the men and women who serve or have served in our military. A national program, U.S. Military on the Move®, is a free real estate rebate and information program developed by Leading Real Estate Companies of the World® to allow active duty and retired military personnel or wounded warriors to earn a rebate when they buy or sell a home. Mel Foster Co. of the Quad Cities also extends this opportunity to include active career police and firefighters. That's something to write home about!
U.S. Military on the Move® (MOM) is offered by top independent real estate companies who are experts in their local markets. When you buy or sell a home through Military on the Move®, you'll receive a rebate based on the actual sales price – not a fixed amount based on a range of values – and you'll receive your rebate when you finalize your home sale.
Receiving a rebate is a great benefit, but choosing the right agent is even more important. When you work with an agent who lives and works in your community, you'll know you've secured a professional in your area with who will deliver the best service. It's just another way of saying thanks for your dedication to our country.
To be eligible, participants must register with U.S. Military on the Move® before contacting a Mel Foster Co. agent.
Click here for more information or to sign up.
Want more great benefits as a thank you for your service? Ask your mortgage lender if you qualify for a VA loan. Click to learn more about the pre-approval process