Sellers want their home in top condition when it goes on the market. We know those first impressions and curb appeal matter. What can homeowners do to get their house in top condition to sell?
All In The Presentation
You only get one chance to make a first impression. Some say the first impression is the only impression that matters. You'll often get the best return on your investment when spending money on improvements to the outside of the house. Make time to power wash your home and clear out the spiderwebs on the front porch. Keep the landscape tidy and free of debris and ensure the walkway to your home is clear. Buy the new garage door or update the front entrance door and add a fresh doormat.
Showcase Properly
Clear the entrance and kitchen of dirt and grime. Touch up any nicks in the drywall and paint walls in high-traffic areas inside, like the main hallways and bathrooms. Address any areas where stale odors or stains are noticeable in your carpets or rugs. It may be time to hire a carpet cleaner to do a deep clean. It's important to depersonalize the home. The buyers have to envision themselves in your space, so remove personal photos where possible.
Do's And Don'ts
DO – Almost all buyers claim they search for a home with good light. Always maximize the lighting at home, both inside and out. Be sure all the window coverings are open to let the sunshine in. Purchase higher wattage bulbs for lamps and light fixtures.
DON'T – Even if you think your pet is the most adorable one that exists, not all buyers will agree. It's best to send your pet to a friend or neighbors' home during a showing. Some buyers get the impression the house is not clean if animals live there, so it's best not to have the food bowl or litter box out as a reminder.
DO – Buyers want storage. Organize and purge items in your closets so that the closets are only half full. A tidy closet only half full will give the impression that there is plenty of space.
Find more tips for selling your home.
Big Brothers Big Sisters (BBBS) announces an office move to a larger space in northeast Davenport. After 15 years at 130 West 5th Street in Davenport, BBBS is relocating its headquarters to 3247 35th Street Court off Elmore and Kimberly Road in Davenport. The move will be effective August 15th. Mel Foster Co., a longtime supporter of Big Brothers Big Sisters, finalized an agreement with the non-profit that will roughly double the current square footage used by BBBS.
"Our growth and program innovation has been exciting," stated Travis Guy, Chairperson of the BBBS Board of Directors, "It's important to strategically position our organization for the future, which means we have the capacity and resources to meet the changing needs of the children and families in our community" Guy continued, "this is a unique opportunity from Mel Foster Co. that creates the space and financial stability for our operations to thrive for years to come."
Lynsey Engels, President, Real Estate Brokerage, explains how this partnership with BBBS fits with Mel Foster Co.'s commitment to serving the Quad Cities, "We are thrilled to announce this long-term partnership the same year we are celebrating our 100-year anniversary.  Giving back to our community has been so important to the longevity of the company and BBBS is an organization that many of our staff, producers and agents are passionate about as well. We're so proud to help BBBS meet their space needs so they can focus on their mission of supporting children and families."
The new space will offer interview/training rooms for volunteer, children and family enrollments, ample parking for visitors and guests, expanded capacity for board, committee and community meetings, mentor and parent orientations, trainings, and a new resource/collaboration room with support materials and space for match-related functions.
Jay Justin, President & CEO of BBBS was also excited to announce that BBBS has received a lead gift of $100,000 from John and Bonnie Leinart for the design and renovation of the new space.  John has served on the board of directors for the organization for more than 22 years.  John, Bonnie, and their children have also served as Bigs in the program.  The Leinart gift was quickly supported by a $25,000 grant from the donor advised fund of the Quad Cities Community Foundation by Hunt and Diane Harris, another long-term supporter of the organization.  These two gifts will serve as lead gifts toward a campaign to raise $250,000 for the buildout.  "This two-pronged approach will give us the physical and financial capacity to grow our impact and sustain our programming for many years to come," stated Justin,
More than 20 area contractors and suppliers are involved in the renovation project.  Estes Construction is donating General Contractor and Design services for the project.  "We are extremely proud to be a part of this project and are thankful for the positive response we have received from the building community to make this project happen," stated Jim Kiesey, Director of Operation for Estes Construction.  Other contractors involved include Petersen Plumbing, Allied Construction, Tri-City Electric, Hornbuckle Heating and Air, Paragon Commercial Interiors, Russell Construction and several others. 
"This move and these gifts represent another significant milestone for our organization as we continue our work to ensure every child can succeed and thrive in life. We are thankful to Mel Foster Co. for their long-term commitment, the Leinart and Harris families for their generosity with their lead gifts, and the building community for stepping up and helping with the renovation. It is not possible without our community partners dedicating their resources, time and talent to serving our youth mentoring in our community and we are thrilled to see their gift impact more children well into the future," added Guy.
The challenges the pandemic created in 2020 led Mel Foster Co. to develop new ways to advance the use of technology for open houses, marketing and closings. The new technology was well received by buyers and sellers and will likely remain as a standard practice long after the immediate threat from COVID-19 has passed.
Mel Foster Co. President Lynsey Engels said, "The year 2020 made our agents pivot and try new ways to communicate with buyers and sellers, market listings differently and complete closing paperwork virtually. Many of our agents were already using our virtual tools, and COVID-19 made it essential for conducting business. We are so fortunate that we had these tools in place and were ready to modify the way we do business so we could continue serving buyers and sellers."
Mel Foster Co. typically hosts an event each January to recognize agents and staff and celebrate achievements. This year, the awards were held as a virtual toasting to the year 2020. "While the pandemic prevented the agents, staff and management from getting together in person, the company felt it was important to toast our 2020 successes and kick off our 100-year celebration," Ms. Engels commented. Each agent and staff member received a customized box with items from local businesses that allowed Mel Foster Co. to support its fellow local businesses.
Lynsey Engels, president of real estate brokerage, Marc Engels, president of Mel Foster Insurance, and Rob Fick, president and CEO, released the company's year-end results collectively via video presentation. The video also recognized the achievements of 109 agents who received awards for their performance in 2020.
Mel Foster Insurance continues to be a trusted independent insurance agency in the Quad Cities region with exceptional client retention rates and the continued growth of new personal/business client relationships. In 2020, Mel Foster Insurance associates added 725 new clients along with writing 1,600 new lines of coverage.
The insurance division increased both total premiums written, up 2.9 percent, and policy count, up 3.1 percent from 2020. Mr. Engels said, "We are pleased to have a 97.4% client retention rate agency-wide. We strive to provide a personalized insurance experience and we can't thank our clients enough for their continued business."
"Our entire team came together and delivered on our commitment to providing first class service to our personal and business insurance clients. That couldn't have been more critical than in a year where we were handed a pandemic, major March hailstorm, and the August derecho," Engels stated. "Our insurance partners and agency personnel all stepped up in a positive way to assist our clients in a year that saw unprecedented claim counts. I am so grateful to our team and the way we handled the challenges of 2020," continued Mr. Engels.
Mel Foster Commercial Real Estate Services, led by Thad DenHartog, sold nearly $71 million in commercial real estate properties earning 33% of the market share in 2020. The division employs eight commercial brokers and two staff members. Three of the company's commercial brokers ranked in the top 10 of the Quad Cities Commercial MLS. "We saw positive commercial real estate market activity this year," commented Ms. Engels. "In a year when our clients faced many challenges, our commercial brokers helped them navigate their unique short-term and long-term needs so they could continue to be successful."
Across the eight residential locations within Mel Foster Co. that serve Eastern Iowa and Western Illinois, the company had a combined 13 agents in the top 10 of their respective MLS. The average sales price for the company was $176,429 and the number of days on the market for 2020 was 58. Like many markets across the country, our region saw record-low inventories as sellers waited longer to list their homes. On average, Mel Foster Co.'s agents closed 15 transactions in 2020, higher than the national median of 12, according to statistics from the National Association of REALTORS®.
In 2020, Mel Foster Co. sold 47 lots in five subdivisions. Mel Foster Co. is the largest land developer in the region and continues to expand its existing subdivisions. The company plans to release 65 new residential lots in 2021. Mel Foster Co. residential agents sold 101 new construction homes or condos in 2020. The average Mel Foster Co. new construction sales price was $401,649, up from $377,731 last year.
During the virtual awards toast, Fick welcomed 11 new agents/staff and congratulated 13 on their retirements. Twenty-six agents were recognized for volunteering on real estate association committees or boards at the local, state, or national level. Forty-nine agents and staff were thanked for their years of service with the company. Across all three divisions, the median number of years of service among staff/agents is 15.5 years. This number is three times the national average as reported by the Bureau of Labor Statistics in September 2020.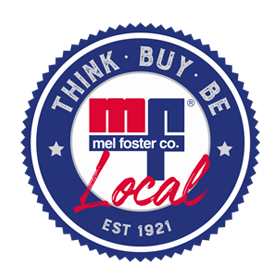 Mel Foster Co. trademarked their think.buy.be.local logo and slogan in 2020. Even in a year with a pandemic, agents and staff participated in many projects to give back to the community. They kicked off 2020 with the River Bend Foodbank – Community Hunger Drive, provided over 300 coats to various non-profit organizations, adopted multiple families over the holidays, made and delivered baskets to seniors, created Valentine's Day cards for seniors, partnered with WQAD for a school supply drive, held a blood drive with the Mississippi Valley Blood Center, and collected toys and money for Toys for Tots drive. They also supported local businesses by purchasing over 150 gift cards for client appreciation events. During Small Business week, gift cards were purchased for agent and staff raffles to encourage supporting local businesses and encouraging the community to do the same. All posts were shared and tagged on their Facebook page to raise awareness for supporting local businesses.
Fick closed the awards virtual toast by offering a hopeful look ahead at the year 2021. "This is our 100th year, and we want to thank the community for its support all of these years. We look forward to many exciting events and initiatives that we will be rolling out in the coming months."
Gather family or friends and enjoy fun June events around town.
Yoga in the Park at Vanderveer Park in Davenport
Saturday, June 1; 9am
Iowa Free Fishing Weekend
June 7-9
Gumbo Ya-Ya in Downtown Rock Island
Saturday, June 8; 4pm
Quad Cities Pridefest in Davenport
Saturday, June 28; 4pm
Miss Iowa Competition at the Adler Theatre in Davenport
Thursday, June 13; 7pm
Illinois Free Fishing Weekend
June 14-17
Geneseo Music Festival
June 14-16; 5pm
Galesburg Railroad Days Train & Toy Show
June 22; 9am
Quad City Airshow at the Davenport Municipal Airport
Saturday, June 29 & Sunday, June 30
Riverview Bacon & Brew Fest in Clinton
Saturday, June 29; 2pm