Trick-or-treating is a fall highlight for little ghosts and goblins. Provide a friendly and safe environment around your home by taking a few simple steps before the fun begins.
Turn on the Lights
Turn on your porch lights as well as other lights on the property. A well-lit yard feels more welcoming for families, especially those with small children. If you have colorful decorations that light up, like jack-o-lanterns or pumpkins, don't forget to turn them all on for a lively Halloween atmosphere.
Clear the Porch and Walkways
Be sure to clear the sidewalks and driveway so visitors have an easy route to the treats. Sweep the sidewalks to remove leaves and debris. Adding ghoulish decorations can be interesting as long as they aren't too scary and don't create an obstacle course to the front door. Park your car in the garage or in an area with low traffic when possible to avoid accidental damage that may occur with pranking teenagers.
Clean Up the Yard
Mow and rake your yard so it's clean and welcoming. Inevitably kids will walk through your yard as they go from house to house, so remember to pick up dog droppings in advance. Remove fallen sticks and branches that could be used as playful swords by the wandering pirates.
Turn Off Your Alarm
Nothing will say scary Halloween experience louder than a house alarm going off when the door is opened. Remember to set your alarm at off when handing out candy. If your house alarm is a favorite pet, be sure she is kept in a separate room away from the door so everyone can feel at ease.
Avoid Homemade Treats
Most parents no longer accept homemade treats for fear of the unknown as well as for the safety of children with allergies. Skip making the family favorite recipe for candy corn and offer up snacks that are prepackaged that you can get in bulk at the store.
Find more tips for homeowners at www.melfostercoblog.com.
Help keep your home safe during the holiday season. Simple steps can be taken to secure your belongings and prevent your home from being a target for burglars. Most home burglaries take place during the day between 10a.m. and 3p.m. and only take between eight to ten minutes. Keep valuable items like cash, electronics and jewelry, which are easy to carry and not easy to trace, away from view.
Maintain your landscape by trimming bushes and removing obstacles that block visibility to the street. A well-lit home is a great deterrent to thieves. Keep your lights on a timer so there is perceived movement in the home.
If you choose to travel this season, don't post a status update on social media about being gone. When packing your car to leave, try doing it quickly or inside the garage with the door closed. Statistics show that most burglars live within two miles of your home, so try not to announce your departure. It may seem obvious, but ensure that all doors and windows are locked. Place a wooden dowel bar to secure sliding doors in your absence. Tell a trusted neighbor to keep an eye out for packages on the porch and make tracks in snow to give the illusion that you're still home.
Maybe installing a home security system isn't in the budget yet, but mounting a decoy camera near an entrance point is a good option and makes your home a less desirable target for theft. Replace locks that look broken or old to indicate a secure home. And maybe this is the year to get your kids a puppy for Christmas, as intruders avoid homes with dogs.
Take the extra time to protect your home this season. It's better to be safe than sorry.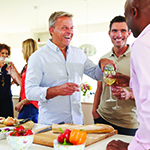 Planning a party for the upcoming Labor Day holiday shouldn't be intimidating. By staying organized and starting early, you can plan, create and host a memorable gathering in your own backyard or indoor living space.  Follow this simple party planning checklist to help keep you on track for planning a party.
One Month Before Party
Set the date, time and place for the party.
Decide on a theme.
Determine your budget, then estimate the cost of each party element to be sure it's realistic.
Think about ways to make the party special, like surprising entertainment, beautiful décor or delicious food.
Three Weeks Before Party
Mail or email invitations.
Order flowers from your local florist.
Rent extra chairs and linens from your local rental company if needed.
Check to be sure you have the necessary serving pieces, serving utensils and pitchers. Rent or buy to supplement as needed.
Source and order party favors.
Two Weeks Before Party
Plan your menu and create a shopping list.
Draft a timeline for preparing each dish.
Prepare any items that can be frozen now and brought out later.
One Week Before Party
Follow up with any guests who haven't RSVP'd yet.
Stock up on your beverages of choice.
Create your music playlist.
Two Days Before Party
Buy groceries or additional bar items.
Write place cards and create a seating chart.
Wash glassware, serving pieces and silverware.
Day Before Party
Pick up and arrange flowers.
Prep and chop fruits and vegetables, wash salad greens, refrigerate.
Prepare any sauces or salad dressings that can be refrigerated.
Let neighbors know if cars will be parked in front of their homes.
Morning of Party
Chill wine.
Set tables.
Set up bar, slice lemons and other garnishes.
Marinate meat, if necessary.
Check guest bathroom: empty trash, set out clean guest towels, place great-smelling soap and a flower next to the sink.
Two Hours Before Party
Set out all serving pieces that will be used on the buffet.
Finish prepping all food that can be done before guests arrive.
Set aside space for dirty dishes and glasses.
Have trash cans and extra garbage bags ready.
One Hour Before Party
Light a scented candle in the bathroom.
Turn on your music playlist.
Set out party snacks.
Get dressed and party ready!
Hope these tips for planning a party help you for your next gathering. Hosting at home can be such fun gathering with your favorite friends and family. Think that it is time to find that perfect home suited for entertaining? Contact your Mel Foster Co. agent today and begin your search now.
The holidays are a time for relaxing with family and friends. Make sure your home is safe this holiday season by keeping an eye out for common hazards.
Holiday Lighting
Be sure to take caution when it comes to decorative lighting. Carefully inspect cords, bulbs and connections for all your lighting. If anything is damaged, repair or replace it immediately.
Extension cords are the source of many fires, so be sure they aren't damaged. Plugging multiple extension cords into each other increases the risk of a fire starting.
Don't overload an outlet with too many plugs. This can cause an electrical overload and cause a fire. Outlet fires cause nearly $1.5 billion in damage annually. Stay safe by using separate outlets to evenly distribute the lighting throughout the house.
Christmas Trees
Choose a fresh tree that has been recently cut. Fresh trees are more resistant to ignition. Continue watering the tree daily to prevent it from drying out.
Make sure any lighting you use on the tree is designed for indoor use. Again, be sure the lighting isn't damaged in any way.
Place the tree at least three feet away from any heat source. This includes fireplaces, candles and heating vents.
General Maintenance
Test your smoke alarms monthly and be sure to replace the batteries immediately if they are unresponsive. Make sure to have a smoke alarm in every sleeping area and on every level of your house.
Clean any clutter around the house. Don't store combustible materials near outlets, heating vents or furnaces.
Replace heating and cooling filters as needed and be sure to have yearly cleaning and maintenance done on your heating and cooling systems.
The number one tip for giving your home great curb appeal in the fall is to keep your lawn free of leaves. Buyers may drive right past your home if they feel like raking leaves would be too much work for them if they bought your home. Keep up with this chore to give your home a tidy and maintenance free look.
Cooler temperatures also mean it's time to replace your tired annuals with colorful mums or kale. Clear out your planting beds of summer foliage and drop some blooms into your window box or porch planter. Remember that you still need to water these plants to keep them looking fresh.
If you have already moved out or can't maintain plant watering, you can brighten your porch with a grouping of three large pumpkins. Want them to last even longer? Don't carve your pumpkins for Halloween. You can keep an uncarved pumpkin on your porch through Thanksgiving and get two holidays out of one purchase!
Even though it's Halloween time, real spider webs on your porch need to be cleared away regularly. No need to scare away buyers with frightful spider webs.
Need ideas for keeping your home open house ready for the holidays? Click here for simple tips.
It's time to deck the halls but danger could be lurking in those decorations. Keep your family safe this holiday season by keeping these hazards in mind.
Tree
Your fresh tree should be green and needs regular water. If your tree is losing needles or the needles break between your fingers, go into revival mode and get plenty of water to your tree. A brittle tree is a fire hazard. Don't block doorways with your tree and place the tree away from a fireplace or heat source as those make your tree dry out faster.
Lights
Damaged sets should never be placed on your tree. When it doubt, toss it out and get a new string of lights. Use no more than three standard size sets of lights per extension cord. Keep wrapped gifts away from outlets and never pile gifts on top of an extension cord on the floor.
Candles
Candles can look beautiful but they are a fire hazard and should be used with caution. Keep candles away from wrapping paper, decorations and sources of blowing air. Pick a spot where kids and pets won't knock over it candles. If you'll be out of the room for a while, blow out the candles and relight them later. Candles shouldn't be left unattended.
Trimmings
Children or animals can try and eat decorations that look like candy or are actually food. Skip the strings of popcorn or cranberries if you have small kids or pets. These items are too tempting and could be fatal.
While you're packing your bags to take a vacation, head south for the winter or move out, burglars are waiting for you to leave your house unprotected. Make your house look occupied while you're gone and secure your property before you head out.
The easiest thing to do is lock your doors and windows! And that spare key you thought you so cleverly hid, is so easy for robbers to find. Find a trusted neighbor to hold a key so it's not under the welcome mat or hidden in the fake rock.
Install exterior motion sensor lights at all entries to your home. Somebody up to no good at your front door doesn't want a spotlight on their face. A light coming on might just be enough to stop a burglar.
Purchase light timers set to go on and off at times that match your usual pattern. You can also connect a radio to turn on and off, just like a light, to give the impression that someone is home.
Ask a neighbor to visit your house on occasion and drive up to the door to leave tracks in the snow. Reposition window treatments and make sure your mail and newspaper have been stopped. Nothing says "nobody's home" like a week's worth of newspapers on the front porch.
If you've taken these steps to make it look like somebody is home at your house, don't take to Facebook and Twitter to post photos of yourself on the beach. Save the photos for your return – when you can be there to protect your home and its valuable contents. Nothing spoils memories of a vacation like getting robbed while you were gone.