Mel Foster Co. celebrated 2022 at its annual awards event on January 26, 2023. Lynsey Engels, president of real estate brokerage, Marc Engels, president of Mel Foster Insurance, and Rob Fick, president and CEO, collectively honored 109 award winners for their 2022 achievements and released the company's year-end results.
Mel Foster Insurance, a locally owned and operated independent insurance agency, had another successful year in a challenging insurance market. With insurance rates rising across the region, the agency was able to capitalize on their numerous financially stable insurance company partners to bring insurance solutions to clients. Agency President Marc Engels commented, "The insurance industry continues to see record catastrophic weather events, nuclear liability verdicts, and unprecedented social inflation, affecting premiums for all insurance consumers. Our people and our long-term relationships in the insurance marketplace make us uniquely positioned to find competitive rates while providing professional and local service."
In an evolving insurance market, the commercial property and casualty department experienced year-over-year growth of 8.9%. Overall, the insurance division saw increased revenue of 6%, and direct written premium was up 5.9%. Mr. Engels said, "I am proud of our entire team for the outstanding service provided throughout the year, which allowed us to retain 98% of our clients in 2022! We appreciate the confidence clients have in us as we recognize we would not be here without their continued business."
"In 2023, we will continue to make financial investments in training and professional development for our employees. We will work diligently to be a trusted independent agency in the Quad Cities region that delivers a great insurance experience," said Mr. Engels.
As one of the largest land developers in the Quad Cities and surrounding areas, Mel Foster Co. sold 24 residential lots in six subdivisions in 2022. To keep up with the demand, the company has 103 developed residential lots available in inventory for home buyers wishing to build their dream home. In addition to the already developed residential lots, Mel Foster Co. has four additional subdivisions final platted and ready to be developed. Mel Foster Co. residential agents sold 69 new construction homes or condos in 2022 and the average new construction sales price in 2022 was $455,994, up from $452,734 last year.
Mel Foster Commercial Real Estate Services, led by Thad DenHartog, had over $75 million in commercial real estate sales, down 8.7% from last year. Two of the company's commercial brokers ranked in the top 10 of the Quad Cities Commercial MLS. Ms. Engels said, "Even with the changing marketplace, the Quad Cities commercial real estate industry saw an increase in interest from outside investors. Despite rising inflation, fears of a recession and supply chain disruptions, the demand for industrial space was still high."
Nationally and locally, residential real estate continued to experience a lack of inventory and rising interest rates sidelined some buyers and sellers in the year's second half. Mel Foster Co. had a 5% decline in volume from 2021. The average sales price for the company was up 9.57% from 2022 at $213,588, and the number of days on the market dropped to 27 compared to 37 in 2021.
Ms. Engels stated, "The first half of the year was similar to 2021. Buyers experienced strong home prices, limited inventory, and a relatively fast-moving environment. As interest rates increased, inflation skyrocketed, and inventory remained tight, the market changed in the last half of the year. Our agents still successfully closed deals with those challenges." On average, Mel Foster Co.'s agents closed 13.5 transactions (buy or sell) in 2022, which is higher than the national average according to the National Association of REALTORS® (NAR).
Across the eight residential office locations within Mel Foster Co., the company had a combined 11 agents in the top 10 of their respective residential MLS. Ten agents were named on RealTrends America's Best Real Estate Professionals list, which honors the finest real estate agents from across the country.
The website, MelFosterCo.com was named one of the leading real estate websites in the nation. The website was recognized for its community section by the real estate industry publication RealTrends Website Rankings, which highlights the top real estate websites across the country in six total categories in an annual brokerage website ranking. A team of technical experts specializing in website design, structure, and functionality analyzes the sites. Mel Foster Co. earned the 2022 Top Workplaces in the USA and Top Workplaces in Iowa, a partnership with The Des Moines Register and Energage.
Fick welcomed 17 new agents/staff and congratulated five other agents/staff on their retirements during the awards. Twenty-two agents were recognized for volunteering on real estate association committees or boards at the local, state, or national level. Forty-one agents and staff were thanked for their years of service with the company, totaling 660 years of combined service. Across all three company divisions, the median years of service among staff/agents is 13.5 years. This number is nearly double what other companies experience, according to NAR. Fick commented, "Our years of service marker indicates that our agents, producers, and staff have collectively created a culture that I am proud of.  We invest in new technology and new products to help our agents and producers find success at Mel Foster Co. We are always seeking talented professionals to join our team."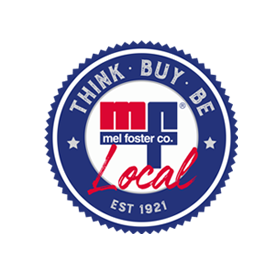 Throughout its 100-year history, Mel Foster Co. has prioritized giving back to the communities it serves.
Mel Foster Co. continued its Think.Buy.Be.Local campaign in 2022. In support of this initiative, the company raised money to support local families by participating in the River Bend Foodbank Community Hunger Drive. Mel Foster Co. supported multiple families in need over the holidays, made and delivered baskets to seniors, partnered with WQAD for a school supply drive, held a blood drive with ImpactLIfe, donated to Quad City Animal Welfare Center through a partnership with WHBF, and collected toys and money for Toys for Tots. Mel Foster Co. agents and staff supported over 160 local businesses during Small Business Week, a 62% increase from last year. The company partnered with local breweries and coffee shops in its communities by providing its agents and staff with branded Mel Foster Co. growlers for a complimentary fill on the company at those establishments. The company is also the three-peat defending champion of the Quad-City Times Bix 7 Brady Street Corporate Sponsor Challenge. Ms. Engels stated, "It's a privilege to work with our staff and agents with opportunities to give back and support local businesses."
Engels closed the awards by thanking the agents and staff for their continued perseverance, loyalty, and commitment to clients. "We don't know what challenges 2023 will bring, but our dedicated professionals will be ready to serve our communities."
For a complete list of award winners, visit https://www.melfosterco.com/agent-achievements