The challenges the pandemic created in 2020 led Mel Foster Co. to develop new ways to advance the use of technology for open houses, marketing and closings. The new technology was well received by buyers and sellers and will likely remain as a standard practice long after the immediate threat from COVID-19 has passed.
Mel Foster Co. President Lynsey Engels said, "The year 2020 made our agents pivot and try new ways to communicate with buyers and sellers, market listings differently and complete closing paperwork virtually. Many of our agents were already using our virtual tools, and COVID-19 made it essential for conducting business. We are so fortunate that we had these tools in place and were ready to modify the way we do business so we could continue serving buyers and sellers."
Mel Foster Co. typically hosts an event each January to recognize agents and staff and celebrate achievements. This year, the awards were held as a virtual toasting to the year 2020. "While the pandemic prevented the agents, staff and management from getting together in person, the company felt it was important to toast our 2020 successes and kick off our 100-year celebration," Ms. Engels commented. Each agent and staff member received a customized box with items from local businesses that allowed Mel Foster Co. to support its fellow local businesses.
Lynsey Engels, president of real estate brokerage, Marc Engels, president of Mel Foster Insurance, and Rob Fick, president and CEO, released the company's year-end results collectively via video presentation. The video also recognized the achievements of 109 agents who received awards for their performance in 2020.
Mel Foster Insurance continues to be a trusted independent insurance agency in the Quad Cities region with exceptional client retention rates and the continued growth of new personal/business client relationships. In 2020, Mel Foster Insurance associates added 725 new clients along with writing 1,600 new lines of coverage.
The insurance division increased both total premiums written, up 2.9 percent, and policy count, up 3.1 percent from 2020. Mr. Engels said, "We are pleased to have a 97.4% client retention rate agency-wide. We strive to provide a personalized insurance experience and we can't thank our clients enough for their continued business."
"Our entire team came together and delivered on our commitment to providing first class service to our personal and business insurance clients. That couldn't have been more critical than in a year where we were handed a pandemic, major March hailstorm, and the August derecho," Engels stated. "Our insurance partners and agency personnel all stepped up in a positive way to assist our clients in a year that saw unprecedented claim counts. I am so grateful to our team and the way we handled the challenges of 2020," continued Mr. Engels.
Mel Foster Commercial Real Estate Services, led by Thad DenHartog, sold nearly $71 million in commercial real estate properties earning 33% of the market share in 2020. The division employs eight commercial brokers and two staff members. Three of the company's commercial brokers ranked in the top 10 of the Quad Cities Commercial MLS. "We saw positive commercial real estate market activity this year," commented Ms. Engels. "In a year when our clients faced many challenges, our commercial brokers helped them navigate their unique short-term and long-term needs so they could continue to be successful."
Across the eight residential locations within Mel Foster Co. that serve Eastern Iowa and Western Illinois, the company had a combined 13 agents in the top 10 of their respective MLS. The average sales price for the company was $176,429 and the number of days on the market for 2020 was 58. Like many markets across the country, our region saw record-low inventories as sellers waited longer to list their homes. On average, Mel Foster Co.'s agents closed 15 transactions in 2020, higher than the national median of 12, according to statistics from the National Association of REALTORS®.
In 2020, Mel Foster Co. sold 47 lots in five subdivisions. Mel Foster Co. is the largest land developer in the region and continues to expand its existing subdivisions. The company plans to release 65 new residential lots in 2021. Mel Foster Co. residential agents sold 101 new construction homes or condos in 2020. The average Mel Foster Co. new construction sales price was $401,649, up from $377,731 last year.
During the virtual awards toast, Fick welcomed 11 new agents/staff and congratulated 13 on their retirements. Twenty-six agents were recognized for volunteering on real estate association committees or boards at the local, state, or national level. Forty-nine agents and staff were thanked for their years of service with the company. Across all three divisions, the median number of years of service among staff/agents is 15.5 years. This number is three times the national average as reported by the Bureau of Labor Statistics in September 2020.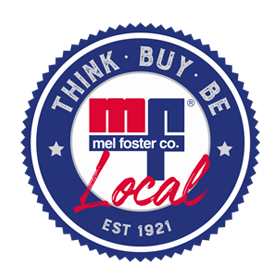 Mel Foster Co. trademarked their think.buy.be.local logo and slogan in 2020. Even in a year with a pandemic, agents and staff participated in many projects to give back to the community. They kicked off 2020 with the River Bend Foodbank – Community Hunger Drive, provided over 300 coats to various non-profit organizations, adopted multiple families over the holidays, made and delivered baskets to seniors, created Valentine's Day cards for seniors, partnered with WQAD for a school supply drive, held a blood drive with the Mississippi Valley Blood Center, and collected toys and money for Toys for Tots drive. They also supported local businesses by purchasing over 150 gift cards for client appreciation events. During Small Business week, gift cards were purchased for agent and staff raffles to encourage supporting local businesses and encouraging the community to do the same. All posts were shared and tagged on their Facebook page to raise awareness for supporting local businesses.
Fick closed the awards virtual toast by offering a hopeful look ahead at the year 2021. "This is our 100th year, and we want to thank the community for its support all of these years. We look forward to many exciting events and initiatives that we will be rolling out in the coming months."