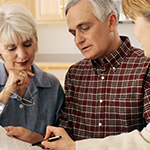 Some homeowners feel their current house isn't their forever home. Here are a few signs it may be time to start your search for something new.
Your Home Doesn't Fit Your Needs
If your family is growing, or you've recently become an empty nester, it's probably time to start searching for a new home. Consider location, size, and layout when finding your next home.
It's a Seller's Market
You can always count on the real estate market to provide shifting trends. Fortunately right now it's a seller's market and most homes are selling quickly. There is currently more demand for homes than the market can meet. If you're on the fence it might be time to strike while the irons are hot.
Your Interest Rate is High
Currently interest rates on mortgage loans are historically low. If you're paying a mortgage with a high interest rate, it's time to start searching for new opportunities. You can consider refinancing or maybe this is the push you need to find a different home. You'll want to act quickly, as interest rates are expected to increase throughout 2018.
Your Mortgage is Completely Paid
If your mortgage is completely paid off when you sell your home, you can reap the financial rewards of making years of payments. If you're looking to downsize significantly, consider a smaller home that requires less upkeep. It'll save you time and money if the home doesn't require constant care.
Follow these tips to start preparing to sell.