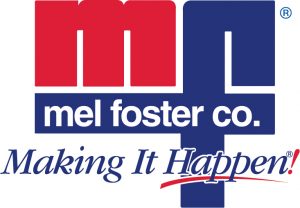 Mel Foster Co. held its annual awards reception last night at the Rhythm City Casino Resort in Davenport, Iowa. Rob Fick, president and CEO, Lynsey Engels, president real estate brokerage and Marc Engels, president of Mel Foster Insurance, honored and recognized 130 award winners within the organization for their 2017 achievements.
Fick congratulated sales associates and staff on a strong year and shared with them, "Our agents and staff are some of the best in the industry and the reason for our success. We've just finished a very successful year and indications show 2018 will follow many of the same market trends. The economy is still robust, low interest rates continue to make home buying very affordable by historical standards, and more people are employed and in a financial position to buy a home or business."
The commercial division, led by Thad DenHartog, continued to dominate the market. Their sales volume continued to reach record-breaking levels with a five percent increase in 2017. Mel Foster Commercial Real Estate Services was ranked number one in the Quad Cities Commercial MLS with over 42 percent of the market share volume in 2017, up 16 percent from 2016.  The next competitor had 28 percent of the commercial sales volume. Three of the company's commercial brokers ranked in the top 5 in the Quad Cities Commercial MLS.  "We are thrilled to see our commercial division continue to hold such a strong position in the Quad City market," said Engels.
Mel Foster Insurance continued to grow its footprint in the region and acquired Frazier & Associates of LeClaire, Iowa in 2017. The insurance division increased both total premiums written and policy count over five percent from 2016 and client base increased by 14%.  Marc Engels, president of Mel Foster Insurance, said, "We are uniquely positioned in the market as a local full-service, independent agency with specialized professionals focused on serving our clients with business risk management, employee benefits, individual/group retirement planning, and personal insurance solutions. We are proud that we added 1,283 policies in 2017 exclusive of our acquisition of Frazier & Associates. We have a 95.4% client retention rate agency-wide, which is a testament to the exceptional service we provide to our personal and business clients. We expect our growth and retention to reach new heights in 2018 in part due to the strengthening economy."
The residential real estate sales team gave another remarkable performance in 2017 with a nine percent increase company-wide in sales volume and number of transaction sides (either listings or selling) over the previous year. All nine office locations reported an increase in sales volume with the Galesburg office leading the way with a 34 percent increase from last year. Company-wide, residential agents averaged 17 transactions in 2017, an increase of at least one per agent. The average time to get homes sold was successfully lowered from 61 days to 55 days in 2017.  In the metro Quad Cities, sale prices rose five percent in 2017 for an average sales price of $191,349 per the Quad Cities Area Realtor Association.  Eleven residential agents were in the top 10 of their respective MLS compared to nine last year.
Construction of new homes surged in 2017 as Mel Foster Co., who is the largest land developer in the Quad Cities continued to develop neighborhoods on both sides of the river. The company developed more than 165 residential lots in six different subdivisions in both Iowa and Illinois in 2017 with plans to develop over 500 lots in future additions.  Lynsey Engels, president, real estate brokerage said, "The increased demand for new construction lots is a great indicator for a strong market in 2018.  We are pleased to be positioned to meet this higher demand with a wide range of neighborhoods offering lots in multiple price ranges."
The high numbers across all the division are the result of the tireless efforts of a dedicated team of professionals and a focused strategy to provide the best real estate and insurance experience. "This is an exciting time for everybody within Mel Foster Co. We posted the best year since the housing bubble peaked in 2008. Our success would not be possible without the hard work of every single person within each of our divisions," Fick concluded.
In addition to another impressive year of sales growth, Mel Foster Co. welcomed 26 new agents and staff into the company in 2017. Mel Foster Co. has residential offices in Bettendorf, Clinton and Davenport, Iowa and Galesburg, Geneseo, Kewanee, Moline and Savanna, Illinois.
Lynsey Engels, President, Real Estate Brokerage at Mel Foster Co. Inc. is pleased to announce ten of their agents have received recognition in the 2014 Premier Club by Leading Real Estate Companies of the World®.  The following agents received Premier Club status, based upon closed referrals between January 1, 2014 and December 31, 2014:
Zina Akre, Geneseo
Jodi Faulkner, Bettendorf
Lucky Lang, Davenport I-74
Don Marple, Davenport Kimberly Road
Norm Marcov, Davenport I-74
Tim Odey, Bettendorf
Judy Schmidt, Moline
Steve Sullivan, Moline
Jackie Turner, Galesburg
Pete Voss, Davenport Kimberly Road
Leading Real Estate Companies of the World® is a global network of over 500 premier real estate firms.  Leading RE is comprised of select independent real estate companies who set the standard of quality service, while generating a highest volume of referral, relocation, and real estate business opportunities for its members.
Mel Foster Co. Relocation division is lead by Deb Boland, and her team assists with moving in or out of the area, providing community tours, finding second homes and senior living.  Contact our relocation specialist for more information at www.melfosterco.com
Mel Foster Co. has been awarded the Website Quality Certification (WQC) from Leading Real Estate Companies of the World® , an international network of more than 500 premier real estate firms. Leading Real Estate Companies of the World® (LeadingRE) presents the certification to member companies that demonstrate best practices in website design, technology and service.
Mel Foster Co's website, www.melfosterco.com, earned the certification after achieving superior marks on a range of measurements, including usability and performance, design and content, interactivity, customer service and Internet lead management, search engine optimization and mobile. The website was evaluated by Virtual Results, LLC, a real estate internet and social marketing firm enlisted by LeadingRE to review the websites.
WQC is a program available only to firms affiliated with Leading Real Estate Companies of the World® and is awarded based on criteria that is updated annually to reflect the latest in internet marketing strategies. To maintain the certification, companies are re-certified every two years.
"We are delighted to recognize the 117 companies that earned the WQC this year and applaud them for creating websites that attract and engage today's consumers, providing useful information on homes and communities and supporting them with local expertise," said Leading Real Estate Companies of the World® President/CEO Pam O'Connor.
"We are thrilled to receive this designation again as we continually enhance our website to ensure users are getting the best possible experience and pertinent details from our site," said Mel Foster Co. President of Brokerage, Lynsey Engels.
For more information about Mel Foster Co., please visit www.melfosterco.com.
When shopping for a home, check out transitional city neighborhoods that might just be on the verge of revitalization. You might find a great price or a really unique home that's in the middle of the action. There are several reasons why you should consider all of your options when searching for your new home.
Urban neighborhoods are home to coffee shops and corner stores. Boutiques and other quirky shops can add the character you might be missing in a traditional suburban setting.
Young couples or singles, who aren't ready to give up a thriving nightlife, are often drawn to downtown lofts, converted warehouse spaces or even upper floors of shops and restaurants. Living downtown may give you more opportunities to make friends who are your age.
Many times, living in an urban area gives you easier access to public transportation that could significantly reduce your annual transportation budget, if you're fortunate enough to no longer need the use of a car.
Farmer's markets and food co-ops are also becoming very popular in urban areas. With access to organic and farm fresh food, your health and wallet could be thanking you. Another point of consideration is that living in densely populated areas gives you the potential for exposure to other ethnic groups and cultures. New and interesting food and customs could become just another perk of your new neighborhood.
Downtown homes or lofts are often smaller than homes out in the burbs. This means less to clean, a smaller yard or maybe no yard to mow, and your utility bill may be smaller in a smaller home. You have your whole life to move out to the suburbs. Look around your downtown for the hot spots that fit your budget and style.
Count on a Mel Foster Co. agent to help you identify up and coming neighborhoods and the programs that may make homeownership more affordable to you. Find an agent at your local office.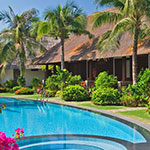 Vacation home sales are on the rise, with many people buying for a vacation home to use now and retire to later.
Second home buyers tend to be in their 40s and 50s, are still working, have children who are starting their own families and no obligations to care for aging parents. They are using their vacation home as a meeting place to gather everyone during holidays or other significant family holidays.
When the home isn't being used, it generates rental income. In some locations, the rental fees can completely cover the mortgage, taxes and fees of homeownership, giving you a vacation home for free that can eventually become your second home in retirement.
Purchasing a vacation home where you'd eventually like to retire allows you to establish community ties for a smooth transition into retirement later. It's also a great trial run. It gives you a glimpse into where you might want to spend your golden years before the time arrives and you have to make a firm commitment.
There are also financial benefits to owning a second home. First is the appreciation that will happen over time, especially if you purchase in a popular resort area. However even modest appreciation over time is acceptable given all the benefits of second home ownership.
Mel Foster Co.'s relocation division has connections to help you find a second home anywhere in the world. Contact a relocation specialist at 800-367-1134.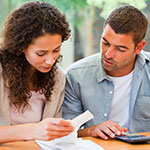 One of the smartest things you can do before buying a home is getting yourself pre-qualified. By getting pre-qualified, you'll get an idea of what your mortgage might cost, ahead of time. This can help you prepare your budget, set your expectations and strengthen your confidence to negotiate when you're ready to make an offer.
What is pre-qualification?
Pre-qualification gives you an estimate of what you could potentially borrow. It is based on information you give on your income, assets and credit. Many times a pre-qualification can be done online and is offered by many lenders at little to no cost. It is however just an estimation, and not a guarantee of any type of loan.
Why get pre-qualified?
Once you know how much of a monthly payment you are able to afford, and you've figured out a budget for yourself, a pre-qualification will allow you to estimate a loan option to fit your needs. You'll also have a better idea of which homes you can afford during your search.
What documentation do I need in order to get pre-qualified?
You will need proof of income, this could include recent pay stubs, or W-2 statements from the past two years. You should also bring a copy of your tax return for the past two years, as well as proof of any alimony or additional income. You'll also want to bring proof of your assets, including bank account statements to show you have the money for a potential down payment. Don't forget your driver's license and social security card, as the lender will need these to access your credit report.
Pre-qualification can help you be fully prepared to purchase that home you've been eyeing. You can get a head start by using the mortgage calculators to determine your monthly payment, figure out how much home you can afford and make a decision about renting versus buying.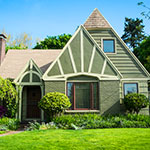 Call it recycling on a grand scale. Homebuyers who want their purchase to be more environmentally friendly are turning to older homes instead of building new. In fact, architect Carl Elefante coined the phrase, "the greenest building is the one that is already built." What he meant by that is that environmental resources that would be used to build a building's replacement are often times spared by restoring or repurposing an existing structure.
Did you know that it can take up to 80 years for a new, energy-efficient building to overcome the energy and climate change impacts caused during the construction process? Building reuse offers significant environmental savings when compared to the energy consumption of demolition and new construction.
Older buildings constructed prior to reliance on mechanical heating, cooling and lighting systems utilize what nature offers as part of their design. This can help reduce your energy use, helping you save on heating and cooling your home.
Go green and consider purchasing an older home that just needs a little TLC. Use the option to search by Year Built by clicking here to find a home you can recycle.
Mel Foster Co. recently named Shannon Mandsager as its Director of Business Development.  Lynsey Engels, President of Real Estate Brokerage at Mel Foster Co. is pleased to welcome Ms. Mandsager to this key position on its growing team.  Ms. Mandsager was previously with a local bank and has a long track record in retail sales and marketing.
Ms. Mandsager will take the lead working with the management team and agents to build and execute a partnership strategy and opportunities that will enhance Mel Foster Co.'s market footprint and accelerate the growth of the company.
Engels comments, "I am very pleased to welcome Shannon to Mel Foster Co.  She is an excellent fit and will bring a new level of energy to our staff and agents.  In an industry where new tools and technology are introduced on a daily basis, Shannon will be in charge of navigating these new ideas and keeping them in the forefront of agent's minds to enhance their business in an effort to maintain a high level of service to our customers in the Quad City and surrounding areas."
She was born and raised in Eldridge, graduated with honors in Business Administration with an emphasis in Marketing and Sales from University of Wisconsin-Platteville.  Ms. Mandsager will be licensed in Iowa and Illinois and works out of the corporate office at 3211 E. 35th Street Court in Davenport.
Mel Foster Co. is pleased to announce that Jon Yocum of their Bettendorf office was installed as President of the Iowa Association of REALTORS® during the Iowa Association of REALTORS® (IAR) annual convention held in Cedar Rapids last week.
Yocum has been a licensed REALTOR® in Iowa for more than 26 years, and has worked at Mel Foster Co. in Davenport since 1996. He has been an active member of the IAR since 1988, serving on numerous committees, including regional vice-president from 2007-2012, member of the education, consumer affairs, legislative, technology and member services committees. He served as IAR president-elect in 2014, treasurer in 2013 and Chairman of the Professional Standards committee in 2012. Yocum also received honorable mention for the 2005 Good Neighbor Award and in 2010 received the Good Neighbor Award for his volunteer work with the Student Built Home Program, where he has served as chairman for 16 years.
Yocum has also served in various leadership roles on his local board, the Quad Cities Area REALTORS® Association, including 2008 secretary/treasurer, 2009 chairman, a director for seven years, and as a member of several committees. He received REALTOR® of the Year Award in 2004 and 2009 and the Bert Frahm Award for Outstanding Dedication and Service to the Real Estate Industry and to the Community in 1999. He was a member and a three year director of the Greater Davenport Board of REALTORS® and received the Distinguished Service Award in 1997.
Yocum is very active in his community. He is also a member of the Quad City Home Builders, where Yocum, for the last 16 years has served as the chairperson for Student Built Home Project and received the 2005 Associate of the Year Award.
 About Mel Foster Co. Real Estate
Founded in 1921, Mel Foster Co. is a real estate leader in Eastern Iowa and Western Illinois serving Davenport, Bettendorf, Moline, Rock Island and the surrounding Quad City area. It is one of Iowa's largest independently owned real estate companies. Mel Foster Co. Real Estate specializes in residential and commercial sales and offers services for a broader spectrum of property transactions including farm and land, land development and management, relocation and new construction. Visit www.melfosterco.com for more information.