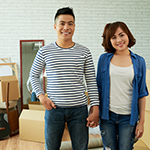 It can be difficult to appeal to millennial homebuyers' tastes, but recent polling has provided some insight into what they're searching for in their first home.
Leave Room for Improvement
Many millennials are looking for a fixer-upper for their first home due to their limited budgets. HGTV has made remodeling more accessible than ever, and millennials want to renovate their houses into their own dream homes. In 2017 first-time homebuyers spent an average of $33,800 on home renovations.
Have a Separate Laundry Room
Millennials are willing to sacrifice comfort for extra square footage dedicated to a laundry room. Every year surveys taken on millennials' buying choices point toward this trend. It's a small change that can make your home significantly more attractive to this group of buyers.
Be Environmentally Friendly
Offer a house that includes green features. Millennials look for LED lighting, double paned windows or even solar panels. You don't have to make a major investment, but even updated, energy-efficient appliances will attract buyers. It's not only trendy and good for the planet, but will also save money in the long run.
Want more expert advice on how to market your home to the most buyers? Ask a Mel Foster Co. agent.