Your car needs spring maintenance just like your house does. As we ease out of a tough Midwest winter season, your vehicle could use some tender love and care. Consider maintenance steps to ensure your wheels are ready to roll this spring.
Check Alignment and Rotate Tires
Most of us drove through a pothole or two this winter, and the car's alignment and suspension are likely imbalanced because of it. Schedule an appointment with your favorite car service company and have the tires rotated and alignment evaluated to confirm the car is safe and secure.
Do A Deep Clean
According to the homeowners' information website, Angie's List, leftover salt can be your car's most damaging remnant of the winter season. Undercarriages, where the metal can rust, endure the biggest hit when they don't get a deep clean. Take the vehicle to a professional car wash to eliminate salt, so your car has a clean slate this spring. And don't forget the inside of the car. A quality interior detailing will extend the life of your carpet and mats and will rid your vehicle of those dropped French fries that you just can't reach between the seat and the console.
Car Part and Safety Upkeep
The emergency kit in the trunk may need some items swapped out after the long winter. Verify that your flashlight batteries are good, replace the flares used, and make sure you still have your jumper cables. Change windshield wipers that don't quite keep the windows clear and fill your washer fluid.
Test The Battery
Brutal winters with low temps can take a toll on your car battery. Many places like AutoZone offer free battery testing and charging so you know how much battery life is left. Prepare now for the upcoming road trip, so you aren't stuck on the side of the road this spring or summer.
Find more tips for homeowners at melfostercoblog.com
Ready to dive into a home remodel project? Aside from creating a realistic budget, schedule a meeting with your Mel Foster Insurance agent before selecting a contractor to determine how the upgrades will affect your homeowner's insurance coverage. Consider a few questions to be sure you're ready to proceed.
Who Should Do The Work?
Feel confident in your choice of contractor and team. Reliable, professional contractors often have reviews and references available through the Better Business Bureau. The contractors should provide you with proof of workers' compensation and liability insurance before the work begins. Hiring a subcontractor or paying a friend to complete the job makes you an employer, which means you should purchase the worker's compensation insurance yourself to cover liability in case of injury. Know who is doing the work and how this affects your insurance responsibility.
Will I Be Covered During Renovation?
Your home insurance company will typically insure the building materials you'll need for renovation. But how much is covered? You may need to raise your coverage limits before beginning your project, and your Mel Foster agent can help settle this with you. Determine if your policy provides sufficient allowances for the unexpected, like if a fire struck and destroyed both your home and the building materials. Some insurance policies also have limitations on whether dwellings under construction or vacant for more than a set number of days are covered. Discuss all options to find the best insurance coverage so you're protected
Does The Remodel Affect My Coverage Limit?
Most home insurance policies require you to insure your home for a minimum of 80 percent of its replacement value, while a Mel Foster home insurance policy covers 100 percent of your home replacement costs.
According to the Independent Insurance Agents and Brokers of America, one in four remodeling projects increases the home's value by more than 25 percent. It's essential that your insurance coverage reflects your remodel's impact on the value of the house. Your agent can determine if your policy limits are adequate to cover potential rebuild costs, including the remodel, if damages were to occur.
Find more insurance tips for homeowners.
The challenges the pandemic created in 2020 led Mel Foster Co. to develop new ways to advance the use of technology for open houses, marketing and closings. The new technology was well received by buyers and sellers and will likely remain as a standard practice long after the immediate threat from COVID-19 has passed.
Mel Foster Co. President Lynsey Engels said, "The year 2020 made our agents pivot and try new ways to communicate with buyers and sellers, market listings differently and complete closing paperwork virtually. Many of our agents were already using our virtual tools, and COVID-19 made it essential for conducting business. We are so fortunate that we had these tools in place and were ready to modify the way we do business so we could continue serving buyers and sellers."
Mel Foster Co. typically hosts an event each January to recognize agents and staff and celebrate achievements. This year, the awards were held as a virtual toasting to the year 2020. "While the pandemic prevented the agents, staff and management from getting together in person, the company felt it was important to toast our 2020 successes and kick off our 100-year celebration," Ms. Engels commented. Each agent and staff member received a customized box with items from local businesses that allowed Mel Foster Co. to support its fellow local businesses.
Lynsey Engels, president of real estate brokerage, Marc Engels, president of Mel Foster Insurance, and Rob Fick, president and CEO, released the company's year-end results collectively via video presentation. The video also recognized the achievements of 109 agents who received awards for their performance in 2020.
Mel Foster Insurance continues to be a trusted independent insurance agency in the Quad Cities region with exceptional client retention rates and the continued growth of new personal/business client relationships. In 2020, Mel Foster Insurance associates added 725 new clients along with writing 1,600 new lines of coverage.
The insurance division increased both total premiums written, up 2.9 percent, and policy count, up 3.1 percent from 2020. Mr. Engels said, "We are pleased to have a 97.4% client retention rate agency-wide. We strive to provide a personalized insurance experience and we can't thank our clients enough for their continued business."
"Our entire team came together and delivered on our commitment to providing first class service to our personal and business insurance clients. That couldn't have been more critical than in a year where we were handed a pandemic, major March hailstorm, and the August derecho," Engels stated. "Our insurance partners and agency personnel all stepped up in a positive way to assist our clients in a year that saw unprecedented claim counts. I am so grateful to our team and the way we handled the challenges of 2020," continued Mr. Engels.
Mel Foster Commercial Real Estate Services, led by Thad DenHartog, sold nearly $71 million in commercial real estate properties earning 33% of the market share in 2020. The division employs eight commercial brokers and two staff members. Three of the company's commercial brokers ranked in the top 10 of the Quad Cities Commercial MLS. "We saw positive commercial real estate market activity this year," commented Ms. Engels. "In a year when our clients faced many challenges, our commercial brokers helped them navigate their unique short-term and long-term needs so they could continue to be successful."
Across the eight residential locations within Mel Foster Co. that serve Eastern Iowa and Western Illinois, the company had a combined 13 agents in the top 10 of their respective MLS. The average sales price for the company was $176,429 and the number of days on the market for 2020 was 58. Like many markets across the country, our region saw record-low inventories as sellers waited longer to list their homes. On average, Mel Foster Co.'s agents closed 15 transactions in 2020, higher than the national median of 12, according to statistics from the National Association of REALTORS®.
In 2020, Mel Foster Co. sold 47 lots in five subdivisions. Mel Foster Co. is the largest land developer in the region and continues to expand its existing subdivisions. The company plans to release 65 new residential lots in 2021. Mel Foster Co. residential agents sold 101 new construction homes or condos in 2020. The average Mel Foster Co. new construction sales price was $401,649, up from $377,731 last year.
During the virtual awards toast, Fick welcomed 11 new agents/staff and congratulated 13 on their retirements. Twenty-six agents were recognized for volunteering on real estate association committees or boards at the local, state, or national level. Forty-nine agents and staff were thanked for their years of service with the company. Across all three divisions, the median number of years of service among staff/agents is 15.5 years. This number is three times the national average as reported by the Bureau of Labor Statistics in September 2020.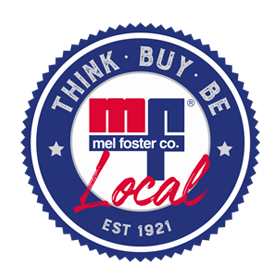 Mel Foster Co. trademarked their think.buy.be.local logo and slogan in 2020. Even in a year with a pandemic, agents and staff participated in many projects to give back to the community. They kicked off 2020 with the River Bend Foodbank – Community Hunger Drive, provided over 300 coats to various non-profit organizations, adopted multiple families over the holidays, made and delivered baskets to seniors, created Valentine's Day cards for seniors, partnered with WQAD for a school supply drive, held a blood drive with the Mississippi Valley Blood Center, and collected toys and money for Toys for Tots drive. They also supported local businesses by purchasing over 150 gift cards for client appreciation events. During Small Business week, gift cards were purchased for agent and staff raffles to encourage supporting local businesses and encouraging the community to do the same. All posts were shared and tagged on their Facebook page to raise awareness for supporting local businesses.
Fick closed the awards virtual toast by offering a hopeful look ahead at the year 2021. "This is our 100th year, and we want to thank the community for its support all of these years. We look forward to many exciting events and initiatives that we will be rolling out in the coming months."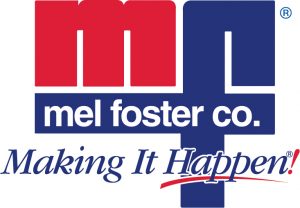 Mel Foster Co. held its annual awards reception last night at the Rhythm City Casino Resort in Davenport, Iowa. Rob Fick, president and CEO, Lynsey Engels, president real estate brokerage and Marc Engels, president of Mel Foster Insurance, honored and recognized 130 award winners within the organization for their 2017 achievements.
Fick congratulated sales associates and staff on a strong year and shared with them, "Our agents and staff are some of the best in the industry and the reason for our success. We've just finished a very successful year and indications show 2018 will follow many of the same market trends. The economy is still robust, low interest rates continue to make home buying very affordable by historical standards, and more people are employed and in a financial position to buy a home or business."
The commercial division, led by Thad DenHartog, continued to dominate the market. Their sales volume continued to reach record-breaking levels with a five percent increase in 2017. Mel Foster Commercial Real Estate Services was ranked number one in the Quad Cities Commercial MLS with over 42 percent of the market share volume in 2017, up 16 percent from 2016.  The next competitor had 28 percent of the commercial sales volume. Three of the company's commercial brokers ranked in the top 5 in the Quad Cities Commercial MLS.  "We are thrilled to see our commercial division continue to hold such a strong position in the Quad City market," said Engels.
Mel Foster Insurance continued to grow its footprint in the region and acquired Frazier & Associates of LeClaire, Iowa in 2017. The insurance division increased both total premiums written and policy count over five percent from 2016 and client base increased by 14%.  Marc Engels, president of Mel Foster Insurance, said, "We are uniquely positioned in the market as a local full-service, independent agency with specialized professionals focused on serving our clients with business risk management, employee benefits, individual/group retirement planning, and personal insurance solutions. We are proud that we added 1,283 policies in 2017 exclusive of our acquisition of Frazier & Associates. We have a 95.4% client retention rate agency-wide, which is a testament to the exceptional service we provide to our personal and business clients. We expect our growth and retention to reach new heights in 2018 in part due to the strengthening economy."
The residential real estate sales team gave another remarkable performance in 2017 with a nine percent increase company-wide in sales volume and number of transaction sides (either listings or selling) over the previous year. All nine office locations reported an increase in sales volume with the Galesburg office leading the way with a 34 percent increase from last year. Company-wide, residential agents averaged 17 transactions in 2017, an increase of at least one per agent. The average time to get homes sold was successfully lowered from 61 days to 55 days in 2017.  In the metro Quad Cities, sale prices rose five percent in 2017 for an average sales price of $191,349 per the Quad Cities Area Realtor Association.  Eleven residential agents were in the top 10 of their respective MLS compared to nine last year.
Construction of new homes surged in 2017 as Mel Foster Co., who is the largest land developer in the Quad Cities continued to develop neighborhoods on both sides of the river. The company developed more than 165 residential lots in six different subdivisions in both Iowa and Illinois in 2017 with plans to develop over 500 lots in future additions.  Lynsey Engels, president, real estate brokerage said, "The increased demand for new construction lots is a great indicator for a strong market in 2018.  We are pleased to be positioned to meet this higher demand with a wide range of neighborhoods offering lots in multiple price ranges."
The high numbers across all the division are the result of the tireless efforts of a dedicated team of professionals and a focused strategy to provide the best real estate and insurance experience. "This is an exciting time for everybody within Mel Foster Co. We posted the best year since the housing bubble peaked in 2008. Our success would not be possible without the hard work of every single person within each of our divisions," Fick concluded.
In addition to another impressive year of sales growth, Mel Foster Co. welcomed 26 new agents and staff into the company in 2017. Mel Foster Co. has residential offices in Bettendorf, Clinton and Davenport, Iowa and Galesburg, Geneseo, Kewanee, Moline and Savanna, Illinois.
Increase precautions when the temperature drops
Temporary measures:
During extended periods of sub-freezing temperatures, increase thermostat settings to at least 60 degrees F throughout the home to help ensure adequate temperatures are maintained in colder spots.
Open bathroom or kitchen cabinet doors that run along outside walls so that warmer room air can circulate through them. If you have pets or children, be mindful of chemicals stored in the cabinets.
To prevent exterior faucets from freezing, shut them off from inside the home and drain remaining water from pipes. Exterior irrigation systems should be winterized.
Still water freezes faster than running water. During periods of low usage and on frigid nights, turn on a faucet at the highest point in the home.  Keep the water stream low, so that only a small amount can trickle through pipes running through cold spaces.
If the water meter is operating but your water in not running, you may have a frozen pipe. Once the pipe thaws, it could burst.  If you discover a frozen pipe, close the main water shut-off valve and call a plumber immediately.
If you're away from home for extended periods of time, turn off the water. This may not prevent frozen pipes, but it can significantly reduce the damage.
Permanent measures:
Install an automatic shut-off system designed to stop water flow when a leak occurs. Contact your independent insurance advisor for additional information and a list of approved devices.
Add several low temperature sensors to your central station alarm system. Place them in remote areas of your home.
If damage occurs:
In the event of water damage, take the following steps immediately to minimize the impact:
Locate the main water shut-off valve and close it.
Call an emergency service restoration company to facilitate repairs and stare the dry-out process.
Move undamaged items away from affected area.
Contact your insurance agent, or the emergency contact number.
Source:  AIG Private Client Group
Mel Foster Insurance and The Selective Insurance Group Foundation joined forces to support the positive efforts of Jordan's Joy through a $500 grant. The Selective Insurance Group Foundation is a philanthropic affiliate of Selective Insurance Group, Inc. (Nasdaq: SIGI).
"Mel Foster Insurance wants to be a positive force in the communities we serve," said Marc Engels, President, Mel Foster Insurance.  "Through combined efforts with partners like The Selective Insurance Group, we have an opportunity to make a difference in children and their families suffering from life threatening illnesses."
The grant represents a $500 donation from Mel Foster Insurance, matched by a $500 grant from The Selective Insurance Group Foundation. The grant will help Jordan's Joy's efforts to help bring joy and comfort to families battling life threatening and rare diseases.
"At Selective, Response is everything®… and this includes responding to the communities where we live and work to give back and help those in need. Together with Mel Foster Insurance, we are proud to support Jordan's Joy and its efforts to make a difference in the community," said Chuck Musilli, Senior Vice President, Distribution Strategies, Selective.
Mel Foster Co. Inc. is proud to announce its insurance division, Mel Foster Insurance, has earned a spot in the 2017 Leadership Circle for Integrity Insurance, a property and casualty carrier.  This recognition honors the top-tier of agencies for their work in 2016. To achieve Leadership Circle status, Mel Foster Insurance met specific criteria based on premium, profitability and growth.
Integrity President Jill Wagner Kelly stated, "Mel Foster Insurance is among the best of the best. They are a strong partner who is committed to providing top-notch service and expertise to policyholders. It's a pleasure to see them thrive and write profitable business with Integrity."
"This recognition is truly an honor. While the criteria for receiving this leadership status include reaching milestones for premium, profitability, growth and loss ratio, it's the staff we have at Mel Foster Insurance, that earns and keeps business from local clients, that really helps set us apart," said Mel Foster Insurance President Marc Engels.
Mel Foster Insurance is located at 3218 E 35th St C, Davenport, IA. For more information on their services, visit melfosterinsurance.com.