The hours of daylight are starting to get shorter with the approach of fall. Soak up all the sun you can by creating a sunroom in your home with these elements.
Comfortable Furniture
Your sunroom should be a second living room. Having a nice area rug or cushioned furniture is a great way to make the space more comfortable. Try to pick natural colors to go with the natural light in the room.
Environmental Controls
Add a space heater or ceiling fan to your sunroom to create a comfortable temperate. And don't forget you should run your ceiling fan in the winter to push the warm air down. Just reverse the fan's direction for winter use. If you're considering a larger investment, adding a fireplace will create a room you can use even when there's snow on the ground.
Privacy Shades
It's nice to be able to see out and enjoy the view, but it's even nicer to have an option for privacy if you want it. Shades or window treatments also keep the room cooler or warmer depending on the season and sunshine.
Greenery
No sunroom is complete without plant life. Even low maintenance plants will make you feel like you're out in nature. If you have more of a green thumb, you can put multiple types of plants with vibrant colors in your sunroom. As a transitional space between your home and the outdoors, the sunroom needs to have thriving plants.
Want more ideas for your sunroom? Check out this weekend's open houses.
Mel Foster Co. is proud to be a member of Leading Real Estate Companies of the World® (Leading RE), an organization that pairs buyers with the top real estate agencies around the globe. If you're moving to a new city, state, or even country, Mel Foster Co. can help you find your perfect home through the LeadingRE network of agents.
The biggest benefit to buyers is starting the process with Mel Foster Co., a local, familiar company to help you take the next step to find a home in a potentially unfamiliar place. Whether you're planning on moving for a new job or just needing a fresh start some place new, Mel Foster Co.'s relocation specialists can help you expedite the home search process. Mel Foster Co. can help you with questions about currency exchange, required documentation and any other information you need to relocate internationally.
Mel Foster Co. relocation experts will connect you with an agent who is familiar with the area you're moving to and put you in direct contact with them. By communicating with a LeadingRE member, you'll be starting your home search on the right track. Through LeadingRE, you can view thousands of properties around to globe, and also see what life is like in different countries. LeadingRE partners offer firsthand knowledge of multiple cities around the world and can tell you what to expect when living there. If you're thinking of moving out of the area, contact Mel Foster Co.'s relocation department for help getting connected to your new community.
It's currently a seller's market, with housing supply down significantly in the local area. The shortage of inventory is the main reason why sellers are doing so well in the current market and getting higher offers for their property. Plenty of homebuyers are demanding homes, but don't have as many options to choose from as they did in the past. Low demand simply means higher sales prices.
In the U.S. roughly 900,000 new homes are available for sale per year, but the demand is for approximately 1.5 million homes. This shortage in the supply of homes gives sellers the advantage when putting their home on the market. Combined with low interest rates, this shortage of housing supply is causing many homes to be sold quickly and competitively, often at a higher than market value price.
Housing experts speculate the shortage will continue for at least four more years even if home construction numbers increase. The supply can't keep up with demand now that millennials are the largest home buying group in America. The large unmet demand for housing is continuing to grow with no signs of slowing down.
Curious what your home might be worth? Click here to connect with an agent and receive a competitive market analysis.
Mel Foster Co. is pleased to announce that several of their agents have been named as one of America's most productive agents as a part of REAL Trends America's Best Real Estate Agents, the ranking report produced by REAL Trends and sponsored by The Zillow Group.
REAL Trends America's Best Real Estate Agents ranks over 12,600 residential real estate professionals solely based on their excellence in real estate sales during calendar year 2016. All production numbers are independently verified by a third-party in order to ensure accuracy and report integrity.  "This group of highly successful real estate sales agent represents less than 1 percent of all real estate practitioners in the United States," says Steve Murray, publisher of REAL Trends America's Best Real Estate Agents and president of REAL Trends.
To qualify for inclusion, an individual agent must have closed at least 50 transaction sides, compared with the industry average of 8.6, or $20 million in closed sales volume in 2016. This ensures that only the best of the best are included on the prestigious list.
The rankings are complied based on survey from virtually every national branded network, many state and local associations of Realtors®, multiple listing services, all applicants from past years' rankings, and the 1,600 largest brokerage firms in the United States.
The real estate agents are ranked in two categories:
Individual agent – Sales volume
Individual agent – Transaction sides (in each real estate transaction there are two sides that can be represented by a real estate agent; the buy side and the selling side)
For Individuals by Volume, in Iowa, two Mel Foster Co. agents ranked in the top ten:
Brad Boeye, Kimberly Road office, ranked #8
Geri Doyle, Davenport I-74 office, ranked #10
For Individuals by Sides, in Iowa, seven Mel Foster agents ranked out of 119:
Lucky Lang II, Davenport I-74 office, ranked #17
Brad Boeye, Davenport Kimberly Road office, ranked #27
Geri Doyle, Davenport Kimberly Road office, ranked #54
Mary Leslie Douglas, Clinton office, ranked #66
Sara Smith, Davenport I-74 office, ranked #67
Dan Schneckloth, Davenport I-74 office, ranked #104
Scott Kelling, Davenport I-74 office, ranked #115
For individuals by Sides, in Illinois, seven Mel Foster Co. agents ranked out of 267:
Diana Franks, Geneseo office, ranked #52
Paula Nabb, Moline office, ranked #155
Peggy Tossell, Kewanee office, ranked #170
Chuck Ross, Galesburg office, ranked #190
Sara Varner, Galesburg office, ranked #203
Jennifer Evans, Galesburg office, ranked #227
Rhianna Schroeder, Galesburg office, ranked #243
"Having our agents recognized on REAL Trends America's Best Real Estate Agents list, shows Mel Foster Co. agents are dedicated to their industry, their business and their clients.  They are part of an elite group of real estate agents across the country," said Lynsey Engels, Mel Foster Co.'s President Real Estate Brokerage.
About Mel Foster Co. Real Estate
Founded in 1921, Mel Foster Co. is a real estate leader in Eastern Iowa and Western Illinois serving Davenport, Bettendorf, Moline, Rock Island and the surrounding Quad City area. It is one of Iowa's largest independently owned real estate companies. Mel Foster Co. Real Estate specializes in residential and commercial sales and offers services for a broader spectrum of property transactions including farm and land, land development and management, relocation and new construction. Visit www.melfosterco.com for more information.
About REAL Trends
REAL Trends is a privately-held, Colorado-based publishing, consulting and communications company specializing in the residential brokerage and housing industries. Recognized as the leading source of trends in the industry, REAL Trends, The Trusted Source, also publishes the REAL Trends The Thousand, as advertised in The Wall Street Journal and the REAL Trends 500, which ranks the top brokerage firms in the United States. Visit REAL Trends at www.realtrends.com.
Zillow is a registered trademark of Zillow, Inc. Trulia is a registered trademark of Trulia, LLC. These marks are used with permission.
With the weather heating up, it's tempting to crank up the air conditioning. Unfortunately, this will also crank up your energy bill, so follow these tips to stay cool and save money.
Clean or Replace Air Conditioner Filters
Be sure your cooling system is running at peak efficiency. If your filters are dirty and blocked, you'll be using more energy and getting less cool air. Cleaning the filters won't only result in cleaner air, but also a more efficient system. You'll be breathing cooler and cleaner air for less money.
Keep Windows and Blinds Opened and Closed at the Right Time
Keeping the blinds and windows closed when the sun is beating down is an extremely easy way to keep your home cooler. But if you like having fresh air, try to only open windows at night or in the early morning before the heat and humidity rise. Having the windows open rather than running the A/C a no cost way to keep your home a little cooler while still enjoying the summer weather.
Only Use Air Conditioning if you are Home
It might be refreshing to always come home to nice cool house, but running air conditioning 24/7 can be very expensive. Turning off the air while you're at work will end up saving you money each month. Many thermostats have scheduling features or smart phone connectivity so you can activate air conditioning at a specific time.
Use Fans to Circulate Air
Using fans to keep air moving is one of the best ways to keep cool. You'll save energy, and be able to control the speed of the air flow. This will help cool air disperse more evenly throughout your home, and keep energy costs down. Remember to switch your fan's direction to counterclockwise in the summer to create cool downward airflow
Vacation should be a time for relaxing, not worrying about your home. Mel Foster Co. has a few tips to help protect your home while you're vacationing.
Avoid Social Media
It may be tempting to share how excited you are about your trip, but it's an obvious giveaway you are leaving your house soon. Try to avoid posting pictures while you're on vacation, instead wait until after the vacation to share photos online.
Stop the Mail
Having an overflowing mailbox is a clear indication someone hasn't been home recently. Stopping mail from the USPS is easy and free for up to 30 days. You don't even need to go to the post office after your vacation to retrieve your mail; a large bundle will be delivered once you're home. And you can sign up online to have your mail held.
Lock Everything
It seems like common sense, but it never hurts to double check to ensure everything is locked. Windows and back doors are all possible points of entry. Before you leave for vacation, be sure to double-check everything is locked, and if you have a spare key, leave it inside the house while you're away. Many burglars look for hidden keys outside the home.
Have Electronics on a Timer
A dark house is a sign no one is home. Set timers on devices in various rooms for different times. Some timers even allow you to control the lights through your smartphone allowing you to switch the timers on a daily basis.
Have Someone Checking on Your Home
The most reliable way to keep your home safe is to have a family member or friend check on your house a few times while you're away. If someone is coming and going from your house while you're away, it's much less likely that burglars will choose your house.
The change of seasons presents the perfect time to deep clean up your home, and make it more appealing to buyers. Here are four ways a little elbow grease can add value to your home and help it appeal to more buyers.
Focus on the Floors
Deep cleaning your floors is a great way to freshen up your home. Steam cleaning carpets, applying a new finish to hardwood floors or adding new rugs all make your home look more attractive to buyers. Consider hiring professional help to get out any stains you've been unable to remove.
Apply Fresh Paint, Inside and Out
A new coat of paint dramatically improves the appearance of your home. Stick with neutral colors to appeal to a broader audience. Having a fresh coat of paint on the exterior will increase your curb appeal and raise interest in your home.
Replace Popcorn Ceilings
Nothing screams dated more than popcorn ceilings. It was an extremely popular practice during the 80s and 90s, but most homebuyers today don't like it. Removing or covering popcorn ceilings is a time intensive project, but increases the value of your home.
Deep Clean the Kitchen and Bath
The kitchen and bathrooms often don't receive deep cleanings as often as they should. Cleaning grout, replacing caulk, and scrubbing down cabinets and sinks takes time, but buyers notice. You need to show buyers your home is well cared for, and keeping heavily used areas clean is a great sign your home is properly maintained.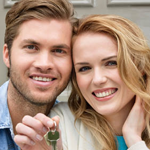 FOR IMMEDIATE RELEASE: CONTACT: Iowa Association of REALTORS® 515-453-1064 info@iowarealtors.com, 5/25/17
Hard work pays off. The First Time Home Buyers Savings Program has been signed!
REALTORS® know that homeownership is the American dream. With the First Time Home Buyer Program, Iowans will be able to start saving and moving into a home of their own more quickly than in recent years.
Through a grant from the National Association of REALTORS®, we rallied Iowa REALTORS® and consumers to contact our legislature about the benefits of homeownership and the importance of the program. Ultimately, the First Time Home Buyer Program, Senate File 505, passed in the Senate with a vote of 49-11 and passed in the House with a vote of 87-11. Governor Branstad signed the bill Tuesday, May 9, 2017. It will go into effect January 1, 2018.
The Iowa Association of REALTORS® will be working with the Department of Revenue to implement the new program. A few key features of the program include:
● This bill allows individuals to open an interest-bearing savings account and designate the account as a first-time homebuyer savings account.
● The funds must be used to buy a property in Iowa.
● A first-time homebuyer is identified as an Iowa resident who has not owned a single-family residence for at least three years prior to the home purchase for which the account's funds are applied.
● An individual may establish more than one account as long as each account has a different beneficiary.
● Parents and grandparents can start an account for a child or grandchild.
● There is no limit as to how much can be retained in each account.
● An account holder is allowed to deduct from the individual income tax the amount of contributions made during the year by the account holder to the account holder's accounts, not to exceed $2,000 per year or $4,000 for married taxpayers with a joint account.
● The interest earned on the account is not taxable.
● The yearly tax deduction can be taken up to 10 times (a max of 10 years).
● This is a state tax deduction NOT a tax credit.
● It cannot be deducted on federal taxes.
● If the money is not used to buy an Iowa property, it may be subject to penalty.
The Iowa Association of Realtors® is the state's largest real estate professional organization representing almost 7,000 members and affiliates. Anyone is eligible to become an IAR affiliate. For membership information, visit www.iowarealtors.com.
The warmer weather is here so it's time to make sure your house is in good shape. Here are a few things you can do to help you maintain your home.
Interior Cleaning
Now is the time to clean and maintain your HVAC system. Change the filters, check for leaks and make sure the drain pans are draining freely. Vacuum any dust in the vents, especially if you suffer from allergies.
Clean the attic and basement and give both areas a solid once over. These lesser used areas of a home are prone to insects and dampness especially if you have any leaks. Check for any mold or wet spots. If the attic or basement feels more humid than the rest of the house, it may be due to water somewhere in the walls.
Exterior Cleaning
Check your roof to make sure there aren't any shingles out of place. You probably don't need to get up on the roof, but do a quick check to make sure everything looks good. Winter can be tough on roofs so see how you fared over the winter.
Siding and windows are other areas to check annually. Cracks or water stains are indications you need to do some repairs. Water stains usually come from your gutters not draining properly. Cracks may require professional help, but you'll save money in the long run as repairing cracks will keep cold air inside.
Outdoors
Check that your central air is in good working condition. Flush the leaves and other debris out of your unit outdoors. If you feel the inside of your home isn't cooling down fast enough, it may be time to call a professional in for a look.
Decks and patios should be cleaned every year to extend their lifetimes. Adding a finish or sealant will keep your deck looking nice and protect it from the elements. It's also a great time to clean any outdoor furniture to get it ready for summer. Rent, borrow or buy a pressure washer to make quick work out of the cleaning.
If you have a grill, be sure it's in good condition. Check burner jets for clogs and obstructions. Be sure gas hoses and connections are tight and secure. You'll want to be sure your grill is ready before your big barbecue party. It's a good idea to have a spare tank on hand so you don't run out of gas midway through cooking.