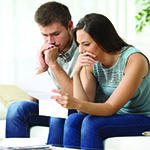 You're ready to leave your rental behind but don't have enough down payment yet. Here's how to start saving today to get you closer to moving into a home of your own.
Begin Saving Early
The sooner you're able to start saving the better, especially if you're able to invest some of your savings. The more you have saved, the more options you'll have when looking for a home.
Follow a Budget
If you're disciplined and able to stick to a budget, you should be able to set aside a specific amount of your paycheck to savings every month. You may have to cut expenses or seek additional income, but you will save in the long run by having lower monthly mortgage payments.
Save Windfalls of Cash
Start saving any extra money you come across. Tax returns, gifts and bonuses are perfect sources for your down payment. If you're able to grow this money through investments, it will get you that much closer to your long-term goals.
Use Interest to Grow Your Savings
If you're able to utilize high interest savings accounts or certificates of deposits (CD's) you'll automatically be putting your money to work for you. Seek out the best resources for earning more for your money.
If you're wondering how much you need to save for a down payment, use this easy mortgage calculator