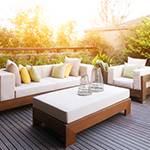 Keeping your deck in top condition can be difficult, especially if you're inexperienced with outdoor maintenance. Follow this list to figure out what will help, or hurt, your deck.
Do Annual Maintenance
Once the weather reaches about 70 degrees, it's time to prepare your deck. Use a utility brush to scrub where the deck is dirty, especially where mold or mildew is growing. The deck needs to be clean and free of debris so protective sealers can soak into the wood.
Don't go Overboard with the Pressure Washer
Using a pressure washer is the fastest way to clean a deck, but it can sometimes gouge the wood if you're not careful. Be sure to keep the pressure washer on low initially and keep the nozzle at least eight inches from the surface. If you're concerned about using a pressure washer, you can always hire a professional.
Do Cover Furniture and Plants before Cleaning
This is a pretty obvious tip, but new deck owners often forget it. Be sure to remove or cover anything on the deck while cleaning. You don't want anything to be splashed on your furniture or plants, especially stain or sealer.
Don't Assume Pressure-Treated Wood is Maintenance Free
Pressure-treated wood may resist rot and insect infestation, but it still needs to be sealed to resist water and sun damage. Use products specifically made for pressure-treated wood.
Do Be Vigilant about Damage
Throughout the year do several checks on the status of your deck. It's important to catch any damage early. You'll thank yourself by stopping problems before they spread and become more difficult and expensive to fix.
Don't Leave Your Deck Uncovered
Large umbrellas and awnings can dramatically extend the life of your deck by reducing the amount of sun that beats down on the wood. Shade structures protect your deck, and as a bonus, provide shade during the summer.