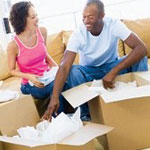 You've compared the costs of renting vs. owning, and home ownership is in your future. As you budget for new household expenses, be sure to include homeowners insurance, which is usually more expensive than what you are paying for renters insurance.
Having enough coverage with your homeowners insurance will give you peace of mind knowing that your home is protected. There are a few things that you should consider when choosing a homeowners insurance policy.
You need to be sure that you understand what most standard policies cover. It usually includes exterior and interior damage from vandalism, fire and weather incidents. It also may cover out of pocket expenses, damage to outside structures and even medical costs if someone is injured on your property. It also covers personal property, which is why it's so important to have photos and to keep purchase receipts of your most expensive assets.
Also keep in mind that whenever you add something to your existing home, such as a porch or an extra bathroom, you should see if your policy needs to be adjusted. Renovations and additions can add significant value to your home and you want to be sure that the new investments you have made are also covered by your insurance.
One thing that is missing from some standard policies is coverage for flood damage. Ninety percent of damage from natural disasters occurs from flooding. Insurance providers usually offer an additional policy that will have insurance for any flood damage that may occur. Keep this in mind if you have a finished basement.
Often it can take up to 30 days for new policies to go into effect. So don't delay any longer, contact Mel Foster Insurance today.