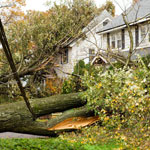 Keeping your home safe is a worry for every homeowner. These tips will help protect your home against potential problems.
Prepare for Severe Weather
Severe weather preparation is crucial to avoiding damage in the event of storms. Make sure your shingles on the roof are secure, gutters are clean and your sump pump is functioning properly. If you're concerned about large trees near your house falling, take measures to make sure the tree falls away from your home, or just remove it entirely. Most tree trimming companies are capable of weighting the tree in a specific direction to control the fall position.
Discourage Break-ins
Preventing break-ins takes a few easy steps. When you leave your home, be sure to leave a few lights on. If a burglar suspects someone may be home, they'll move on. Do your best to hide more expensive items. Keep valuable items away from windows. Finally, be sure to lock all windows and doors. It seems obvious, but over 40 percent of burglaries occur without the use of force.
Get Covered
Sometimes all the prevention you do won't be enough. That's where having a home insurance policy is extremely important. Policies can cover a wide variety of damages, and often replace damaged or stolen items. To get a free home insurance quote, click here.