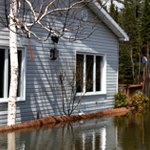 Dealing with the aftermath of a flood is difficult. Follow these helpful tips to make sure your family and home are protected.
If you have any concerns about living in an area prone to flooding, first make sure you are covered by your homeowners insurance. Often flood damages aren't covered in standard homeowner policies and require separate insurance. Your Mel Foster Insurance associate can verify your coverage and make a recommendation. Be sure you have an insurance policy for floods that covers structural damage.
Your coverage can give you peace of mind, but would you know what to do if you suddenly found yourself in a flood situation? The first step is avoiding any harm to you or your family. If there is standing water, make sure no electricity is running through it. Try to avoid being in the water, unless you're certain it is safe. Next, document the damages with photographs for your insurance company. It's important your agent sees the damage caused by the flood, to help you with your claim.
Contact your Mel Foster Insurance associate and inform him or her of the damages. They may ask for the photographs or other documentation. They may then give you the go ahead to clear out the water to prevent further damage. Once everything is dried out, inspect the foundation of the home for warping, cracks and holes. If there is any further damage, document it with photos and contact your insurance associate about additional damages.
If you have any questions about flooding or insurance, contact Mel Foster Insurance at http://www.melfosterinsurance.com/ or call 563-359-5446.