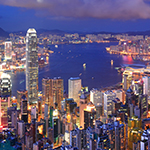 Mel Foster Co. is proud to be a member of Leading Real Estate Companies of the World® (Leading RE), an organization that pairs buyers with the top real estate agencies around the globe. If you're moving to a new city, state, or even country, Mel Foster Co. can help you find your perfect home through the LeadingRE network of agents.
The biggest benefit to buyers is starting the process with Mel Foster Co., a local, familiar company to help you take the next step to find a home in a potentially unfamiliar place. Whether you're planning on moving for a new job or just needing a fresh start some place new, Mel Foster Co.'s relocation specialists can help you expedite the home search process. Mel Foster Co. can help you with questions about currency exchange, required documentation and any other information you need to relocate internationally.
Mel Foster Co. relocation experts will connect you with an agent who is familiar with the area you're moving to and put you in direct contact with them. By communicating with a LeadingRE member, you'll be starting your home search on the right track. Through LeadingRE, you can view thousands of properties around to globe, and also see what life is like in different countries. LeadingRE partners offer firsthand knowledge of multiple cities around the world and can tell you what to expect when living there. If you're thinking of moving out of the area, contact Mel Foster Co.'s relocation department for help getting connected to your new community.