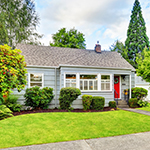 It's currently a seller's market, with housing supply down significantly in the local area. The shortage of inventory is the main reason why sellers are doing so well in the current market and getting higher offers for their property. Plenty of homebuyers are demanding homes, but don't have as many options to choose from as they did in the past. Low demand simply means higher sales prices.
In the U.S. roughly 900,000 new homes are available for sale per year, but the demand is for approximately 1.5 million homes. This shortage in the supply of homes gives sellers the advantage when putting their home on the market. Combined with low interest rates, this shortage of housing supply is causing many homes to be sold quickly and competitively, often at a higher than market value price.
Housing experts speculate the shortage will continue for at least four more years even if home construction numbers increase. The supply can't keep up with demand now that millennials are the largest home buying group in America. The large unmet demand for housing is continuing to grow with no signs of slowing down.
Curious what your home might be worth? Click here to connect with an agent and receive a competitive market analysis.