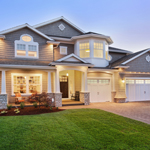 Vacation should be a time for relaxing, not worrying about your home. Mel Foster Co. has a few tips to help protect your home while you're vacationing.
Avoid Social Media
It may be tempting to share how excited you are about your trip, but it's an obvious giveaway you are leaving your house soon. Try to avoid posting pictures while you're on vacation, instead wait until after the vacation to share photos online.
Stop the Mail
Having an overflowing mailbox is a clear indication someone hasn't been home recently. Stopping mail from the USPS is easy and free for up to 30 days. You don't even need to go to the post office after your vacation to retrieve your mail; a large bundle will be delivered once you're home. And you can sign up online to have your mail held.
Lock Everything
It seems like common sense, but it never hurts to double check to ensure everything is locked. Windows and back doors are all possible points of entry. Before you leave for vacation, be sure to double-check everything is locked, and if you have a spare key, leave it inside the house while you're away. Many burglars look for hidden keys outside the home.
Have Electronics on a Timer
A dark house is a sign no one is home. Set timers on devices in various rooms for different times. Some timers even allow you to control the lights through your smartphone allowing you to switch the timers on a daily basis.
Have Someone Checking on Your Home
The most reliable way to keep your home safe is to have a family member or friend check on your house a few times while you're away. If someone is coming and going from your house while you're away, it's much less likely that burglars will choose your house.