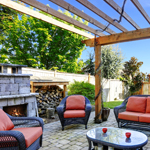 When your home is on the market, curb appeal is extremely important to attract buyers. Mel Foster Co. has a list of five outdoor trends to increase interest in your home.
Low Maintenance Landscaping
Everyone loves seeing beautiful gardens, but not everyone loves taking care of them. Keep your bushes, flowers and trees low maintenance to attract a wider audience. If a buyer has a green thumb, they'll most likely add their own personal favorites after moving in.
Permanent Structures
Covered patios, screened in porches and fire pits increase the value of your home. Also consider year round seating such as benches attached to your home or deck. These options may be expensive to install, but make your home more appealing.
Privacy
Everyone loves privacy and outdoor spaces are an extension of the home. Canopies, fences and tree lines provide more privacy for the yard. When selling your home, you can't afford avoiding such an essential and attractive feature.
Lighting
Lighting in your seating area is extremely important. It adds additional function to your yard extending the amount of time it can be used. Good outdoor lighting showcases your property more during the nighttime. Adjustable lighting is even better, that way you can control the amount of light to your preferred level.
Natural Wood and Stone
Natural wood and stone are timeless additions. They are classic options that give your yard a natural look with modern comfort. Pick colors of stone and wood to compliment the other colors in your yard. Finding the right combination will help your home stand out amongst the crowd.