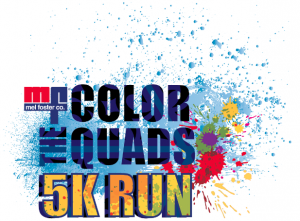 Mel Foster Co.'s Color the Quads raised $70,500 for local charities during its fourth and final colorful run on May 21 in Bettendorf, Iowa. Over 1,300 5K participants, 200 children racers, sponsors and volunteers contributed to the cause. One hundred percent of the proceeds from Color the Quads were distributed to local charities. Jordan's Joy, NAMI – Greater Mississippi Valley and YMCA Camp Abe Lincoln and Youth Solutions received $23,500 each.
Jordan's Joy board member, Michelle McMullen said, "Thank you all for the incredible experience! Because of Mel Foster's hard work and determination, the Quad City community has come together once again to help kids and their families in our area. Jordan's Joy was honored and humbled to be such a special part of it."
"This was a fantastic opportunity to get the word out about education resources for families living with a serious mental health condition. We are grateful to those persons who voted with their feet to support NAMI," said Angela Gallagher, executive director, National Alliance on Mental Illness Greater Mississippi Valley.
"Mel Foster and Color the Quads have done more than just provide a fun and healthy family event for our community," said Scott County Family Y CEO Brad Martell. "Because the proceeds benefit YMCA Camp Abe Lincoln and the Solutions Outreach program, hundreds of students and their families will be supported and encouraged to be the next generation of leaders for our community! The effects will impact all of us for years to come!"
The event's Color Extraordinaire, Color Party, Kid's Color Dash, Color Explosion and Color Burst sponsors include; Mel Foster Co., XPAC, Tri-City Electric Co., American Bank & Trust, Active Endeavors, Perl Mortgage, University of Iowa Community Credit Union, Vollertsen, Britt & Gorsline P.C., Alcoa, Build To Suit, Enviromark, Gomez May Law, Hawkeye Paving Corp., Hy-Vee, KWQC, Mickle Communications, Pear Advertising, Pella Windows & Doors, Quad-City Times, Radon Solutions, Terrostar Interactive Media, TMI – Total Maintenance Inc., Twin Rivers Bank & Trust Tyson Fresh Meats Inc., and Victorystore.com.
"We were amazed once again by the generous support of our sponsors and this community. By raising $254,854 for local charities over Color the Quads' four-year run, we know we've made a positive impact in our community, to strengthen families and support youth. It was a privilege to lead this project during its successful run and we are so proud of what was collectively achieved," said Lynsey Engels, President, Real Estate Brokerage for Mel Foster Co.