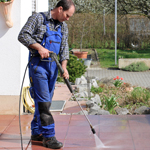 If you're preparing to put your home up for sale, don't forget about a good cleaning of your home's exterior. You may not need to hire a professional to pressure wash your siding, deck or fence. It's a pretty easy DIY project and you may find a neighbor with a pressure washer who is happy to lend you the equipment. 
Here's what to know before you connect the hose and fire up the air compressor.
What Surfaces Can Handle Being Pressure Washed?
Aluminum, steel, vinyl or wood can be pressure washed. Be certain your house doesn't have lead paint. The runoff may contain lead and contaminate the soil, or even go into a storm drain polluting local bodies of water. Most houses painted after 1978 no longer used lead based paint.
Preparing to Use a Pressure Washer
When preparing to use the pressure washer, make sure you follow some simple safety steps. Before you start washing, make sure there are no cracks or holes in your siding or deck. The pressure washer may cause additional damage to these areas.
You want to be sure you never point the pressure washer at yourself or anyone else. It can easily cut through skin due to the force of the water. It is recommended to wear eye protection and avoid using a pressure washer if you are on a ladder.
Starting to Clean with the Pressure Washer
Cleaning is very simple. Apply a base layer of water using a standard garden hose to get the siding or deck ready for cleaning. After the siding or deck is wet, make sure the cleaning solution is in the pressure washer, and hook it up to the hose. Most pressure washers activate using a trigger.
If you're cleaning house siding, you want to begin at the base of the house so there are no streaks running onto a dry part of the siding. Keep the pressure washer about one foot away from the siding and slowly swipe back and forth on each panel. You want to start at the base of the house.
Cleaning a deck or patio follows the same rules, but you start at the inside of the deck so you can push the water and debris off of the deck. You should be able to see the coloring difference as you clean. Keep washing every part of your deck or patio, especially inside cracks so every part looks fresh and clean.