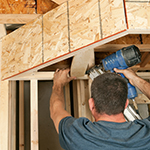 If you're planning on finishing your basement to raise your resale value, read these tips to make smart improvements that attract buyers.
Keep it Dry
Protect your improvements from water. Before you start any basement renovations, make sure potential leaks are stopped. You don't want your time, money and effort to be wasted due to water damage.
Add a Vapor Barrier
Even after patching up any leaks, your basement can still feel or smell damp, which is a turn off to potential buyers. Adding a vapor barrier to the walls and floors before finishing will help your basement show well. You can check the barriers after a day or two to see if moisture is gathering. If there is significant moisture, you may need to add additional barriers.
Add the Proper Insulation
Insulation doesn't only help control the temperature, it can also add another layer of moisture protection. Choose an insulation that has a vapor barrier on both sides for added protection.
Finish with Drop Ceilings
Drop ceilings are an easy way to conceal any plumbing or electrical lines without any major construction. If something does go wrong while renovating the basement, it's easy to remove tiles to access the pipes and wiring. Keep in mind drop ceilings reduce the amount of overhead space.
Install Recessed Lighting
Recessed lighting is a fabulous idea for any basement. It fits perfectly into drop ceilings while providing minimal and easily concealable wiring. It also provides invaluable amounts of space that hanging light fixtures would otherwise take up.