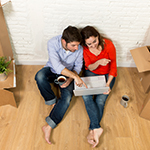 Buying a home isn't always easy, especially for first time buyers. Knowing the more common mistakes will cut down on stress during the process.
Not Seeking Professional Guidance
Starting the home buying process alone isn't a good idea, especially if it's your first time buying. Hiring an agent is a smart choice to help with the home search, negotiations, finances and closing. Agents are an incredibly valuable asset for any home buying situation.
Missing Hidden Costs
Property insurance, taxes, maintenance and utilities are costs often forgotten during the excitement of buying a new home. Keep in mind these costs generally increase every year. Even if you can afford it now, ask yourself if you can afford it in the future.
Skipping the Loan Preapproval Process
Being preapproved for a mortgage helps narrow your home search by directing you to homes within your budget. Talking to someone in advance will help set realistic expectations, and offer peace of mind knowing what homes will fit your budget appropriately.
Depleting your Savings
It may seem as though you have the perfect amount of money in your savings to buy your home and move in, but if you're emptying that account to buy a home, it means the home is too expensive. Ideally you'll have saved enough money to buy your home, move and cover expenses for six months without pay. This is a safety net if you lose your job, so don't blow all of your money on a home you can't afford.
Making Large Purchases after Closing
Celebrate buying a home with major purchases before closing may seem exciting, but lenders check credit scores to be sure your financial situation hasn't changed. Putting new furniture or appliances on a credit card before your closing date may negatively affect your credit score. And adding new loans may jeopardize the original mortgage you were hoping to receive. Don't learn this lesson the hard way and have this mistake cost you the home you were counting on.