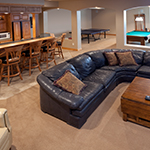 A man cave should be a place for a stay at home vacation. It's an exciting project to begin, here are ideas to help start creating your own personal paradise.
Personalize with Your Preferences
Your man cave is a reflection of yourself. Your hobbies and interests should be represented and on display for everyone to see. Adding jerseys from your favorite athletes, LED signs from your favorite drink and collectible posters gives you an idea of how the room will look and present possible themes to match your personality.
Choose a Theme
Don't have wood paneling on the walls with modern furniture as decoration. Keeping the theme consistent is important. Deciding early on if you want a rustic cabin, a sports shrine or classic retro look will make buying furniture and decorations a breeze. Use decorations you currently have as a starting point for what theme to choose.
Keep a Fully Stocked Bar
If you have the space, adding a bar is an amazing addition to any man cave. Stylize and stock the bar as if you were open for business. Being able to accommodate any order for friends and family will make your bar even more impressive, even if you have to Google the recipe.
Include an Entertainment Center
Another must have for your man cave is a fully equipped entertainment center. Pick out a TV, add surround sound speakers and you have a private movie theatre. If you're tight on space, mount the TV on the wall. Include sufficient seating as well, you don't want people standing in front of the TV during the big game.
Add a Game to Play
Including a pool, foosball, or ping pong table adds an exciting feature to your room. Maybe you have a favorite arcade or pinball machine you played when you were younger. Anything you enjoy playing is a perfect novelty item to complete your cave. Even something as easy to install as a dart board is a great way to spend time with friends and get the party started.