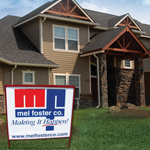 Selling your home quickly can be difficult, unless you follow Mel Foster Co.'s five tips for getting off the market quickly.
Price it Competitively from the Beginning
Your home listing receives the most attention during the first 30 days it's on the market. Don't set yourself up for failure by overestimating your home's value. Online comparisons make it easier than ever to determine an accurate value of houses, so make your house stand out by pricing correctly the first time it's listed. Your Mel Foster Co. agent can help you determine your listing price.
Advertise Immediately
Half the battle is letting everyone know your home is for sale. Your Mel Foster Co. agent will develop a custom advertising plan for you that includes adding your home to the MLS and letting other agents know it's now on the market.
Showcase the House Online Properly
Over 90% homebuyers start the search for a new property online and the number one way to gain their attention is through high quality photographs. You need something better than awkwardly lit rooms with photos from an outdated camera. Using a professional photographer is the easiest way to get the best photos for your listing. Talk to you Mel Foster agent to help your home stand out among the competition.
Depersonalize Before Listing
Remove family photos, personal art, and collectible items from your home before showing off to buyers. Don't take it personally, but buyers don't want to see your life on display. They want to imagine themselves in the house, and your personal accessories make this difficult. Removing these items also has an added bonus of making the home look less cluttered and clean.
Sweeten the Deal
If you're really in a hurry to get out of your home, offering to pay a portion of closing costs will attract buyers. Consider a shorter closing time so buyers can move in quickly after deciding they want to purchase your home. If you have a large yard and a riding lawn mower, include the mower during negotiations. There are numerous ways to generate additional interest, and asking your agent for ideas will help you find different options to expedite the sale.