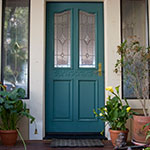 Help make your new construction home stand out among the sea of vanilla by adding a little color and style to the front of your home.
Paint the front door
If you got a boring builder's special door, a little color will make your house pop. Make the job even easier and take the door off the hinges and paint the door while it's laying flat.
Accentuate your address
It's inexpensive to buy decorative house numbers and it's fast to swap out the old numbers with new.
Dress up the porch
Just two chairs in a bright paint color or with bold accent pillows will make your porch stand out and serve as an inviting gesture to your new neighbors.
Pot some plants
You can go bold with colorful annuals or more sophisticated with urns and greenery. If you don't have a green thumb, opt for a small shrub or dwarf evergreen. It's hard to go wrong with something hardy that doesn't require daily watering.
Welcome mat
Let your neighbors know you've now moved in with a colorful welcome mat.