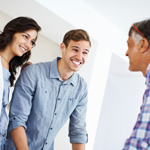 Home improvement projects aren't cheap. They are even more costly if you choose a bad contractor. These tips will help you discern the quality of the work your prospective contractor provides and protect your interests during the project.
Ask your friends for referrals
Skip the phone book and go right to the friends you trust for their opinions. Even if they tell you about a bad experience or give you the names of contractors to avoid, this is great information to have.
Make a list of the work you need done
You don't want a contractor that is great at building decks to be doing your major kitchen remodel. Determine the scope of the work you need done, so as you interview prospective contractors, you can line up their expertise with your needs.
Look at the contractor's past jobs
Every reputable contractor should provide you with a list of references you can call, or even visit, to see the quality of the work done. Take advantage of the opportunity to see the work for yourself.
Get it in writing
Once you've selected your contractor, get a contract written up and thoroughly review it with your contractor before signing the agreement for work.
Be money smart
Be weary of a contractor who asks for more than 10% down. If your contractor can't start work for several weeks, never give more than a $1,000 deposit.
Once work begins, pay your contractor in increments of 10% as project goals are met. Arrange for the final payment 30 days after completion of the job.