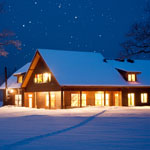 With housing prices and mortgage rates on the decline, now may be the best time to consider purchasing your new home. It may seem like a hassle to consider a major purchase and a move, especially during this year's exceptionally brutal winter, however there are several reasons why waiting it out might not be in your best interest.
Rising Interest Rates
According to Freddie Mac, Fannie Mae, the National Association of Realtors, and the Mortgage Bankers Association, 30-year mortgage interest rates are projected to be over 5% by February 2015. This increase brings interest rates almost an entire percentage point higher than current market rates.
Dwindling Supply
Inventory in many regions is on the decline. Buyers in markets nationwide are beginning to find that their choices are becoming ever smaller, as the once large assortment of homes continues to decrease.
An Increase in Prices
Homebuyers will find that they are going to pay both a higher price and incur a higher interest rate if they wait until spring. In the long run, higher sales prices and interest rates could mean hundreds of dollars more in a monthly mortgage payment.
Home Ownership Creates Wealth
In a recent study, it was found that the net worth of an average homeowner was 30 times greater than the net worth of a renter. Whether you rent or own, you pay a mortgage. Would you rather pay down your own mortgage or your landlord's?