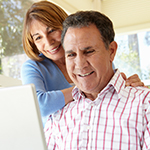 Downsizing before or during retirement is a smart decision for seniors. It means less upkeep and maintenance with a potentially less expensive monthly payment. Make downsizing easy by following these tips from Mel Foster Co.
Work with a Realtor®
Working with an experienced Realtor® is the best decision you can make when looking to downsize. The seller pays the commission so you have nothing to lose by utilizing professional resources. A Realtor® can help you determine financial qualification, size needed and available listings. Condo purchasing contracts also are very different from other types of residence. Even with out of town listings, Mel Foster Co. has relocation specialists to help you find your new home anywhere in the world.
Determine what Property you Need
You should communicate with your real estate agent to let them know exactly what you're expecting from your new home. Are you looking for a high-rise, a cozy one story house or a small home with a spacious garden? Have an idea of your needs before you talk with your real estate agent so they can find you a property to exceed expectations.
Find Sufficient Storage Options
The smaller space is a huge plus for many retirees. It means less upkeep and maintenance, but also less storage. If you have furniture, photo albums or decorations, you may want to consider renting a storage locker. They're inexpensive and can be climate controlled so you don't need to worry about damage to your more fragile items. Talk with your real estate agent to see if there are any storage options near the properties you're considering.
Consider a Rental
If you're concerned about a long-term commitment, consider renting. It's a great way to see if you enjoy the location in a new area. You can decide later with your real estate agent if you want to find a more permanent home. It's often more cost efficient to rent, and most maintenance is taken care of by the landlord. It can help you determine what size home you need, and the lifestyle changes that come with downsizing.
Find an agent with local or national experience to find a home where you can comfortably downsize.