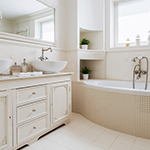 Home buyers love a beautiful, relaxing bathroom reminiscent of a spa. Mel Foster Co. offers five tips to help you create a beautiful bathroom to attract buyers willing to pay a premium for a gorgeous bathroom.
Create a Blank Canvas.
Start by removing all clutter from the bathroom. Buyers don't want to see your soaps, hygiene products or medicines. Create an environment where potential buyers can imagine the possibilities of their own personalization.
Clean Extensively.
Once all clutter is removed, clean everything. Every surface from floor to ceiling should be sparkling new looking and fresh smelling. Buyers will pay top dollar for a bathroom that is well maintained and move-in ready. Once you're finished cleaning, be sure to remove all cleaning supplies or tuck the bottles away in the linen closet or below the sink.
Add Minor Upgrades.
Small upgrades add significant value to your home, especially in the bathroom. Repainting walls, updating the sink faucet and cabinet handles or installing new light fixtures are all inexpensive changes to modernize your bathroom. Stick with classics like stainless steel finishes to create a timeless style to appeal to the majority of buyers.
Replace Towels and Curtains.
Purchasing new towels and shower curtains gives the bathroom a fresh look. White is a great neutral color, providing a fresh and clean finish. Only use your new linens for display so you'll have an easier time preparing for showings and open-houses.
Add Simple Accessories.
Don't be afraid to add some accent colors to your bathroom. Including plants or matching set pieces can personalize your bathroom without making buyers feeling like they're intruding. Don't go overboard though, one or two items will be enough for most bathrooms.
Ask your agent about other staging ideas to bring top dollar for your home.