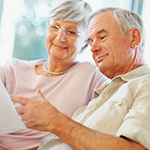 Reverse mortgages are a great way for senior homeowners to generate a steady flow of income, or receive an immediate lump sum for expenses, if you qualify and determine this is the right option for you.
A reverse mortgage works exactly how it sounds. The bank pays you an upfront lump sum, monthly distributions, a credit line or a combination of all three. The upside is you don't have to pay back the interest accumulated on the loan during your lifetime, unless you move out of the house.
To qualify, you must be at least 62 years old and own, or nearly own, a house. You also have to make sure your house is in good condition and have no other outstanding loans. If you meet these criteria, a reverse mortgage might work for you.
Be sure to consider the entirety of costs involved in getting into the agreement. Interest is accumulated over the course of the agreement, and when you move or pass away, interest is owed to the bank. The interest is deducted from your estate.
If you're planning on leaving a substantial amount of money from your estate to friends or relatives, consider how much is going to be deducted due to the reverse mortgage interest payment.
Ask a preferred mortgage lender at University of Iowa Community Credit Union (UICCU) about a reverse mortgage, or contact the trusted lender of your choice.