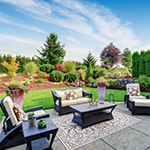 The warmer weather is here so it's time to make sure your house is in good shape. Here are a few things you can do to help you maintain your home.
Interior Cleaning
Now is the time to clean and maintain your HVAC system. Change the filters, check for leaks and make sure the drain pans are draining freely. Vacuum any dust in the vents, especially if you suffer from allergies.
Clean the attic and basement and give both areas a solid once over. These lesser used areas of a home are prone to insects and dampness especially if you have any leaks. Check for any mold or wet spots. If the attic or basement feels more humid than the rest of the house, it may be due to water somewhere in the walls.
Exterior Cleaning
Check your roof to make sure there aren't any shingles out of place. You probably don't need to get up on the roof, but do a quick check to make sure everything looks good. Winter can be tough on roofs so see how you fared over the winter.
Siding and windows are other areas to check annually. Cracks or water stains are indications you need to do some repairs. Water stains usually come from your gutters not draining properly. Cracks may require professional help, but you'll save money in the long run as repairing cracks will keep cold air inside.
Outdoors
Check that your central air is in good working condition. Flush the leaves and other debris out of your unit outdoors. If you feel the inside of your home isn't cooling down fast enough, it may be time to call a professional in for a look.
Decks and patios should be cleaned every year to extend their lifetimes. Adding a finish or sealant will keep your deck looking nice and protect it from the elements. It's also a great time to clean any outdoor furniture to get it ready for summer. Rent, borrow or buy a pressure washer to make quick work out of the cleaning.
If you have a grill, be sure it's in good condition. Check burner jets for clogs and obstructions. Be sure gas hoses and connections are tight and secure. You'll want to be sure your grill is ready before your big barbecue party. It's a good idea to have a spare tank on hand so you don't run out of gas midway through cooking.