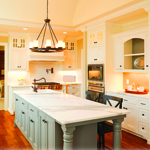 Creating a timeless kitchen isn't only appealing to you, it increases the interest of potential buyers as well. Follow this list to create a future-proof kitchen that will stand the test of time. And help you get a higher return on your investment when you decide to sell.
Use Classic White Color
It's hard to go wrong with a dominant white color in your kitchen. It opens the kitchen up, lightens the room and is a standard color for most kitchen fixtures. It's also easy to display your kitchen as well kept and clean because dust has nowhere to hide.
Install Hardwood Flooring
Hardwood floors are a marketable feature for any kitchen. You can find a beautiful floor to meet almost any budget, which will pay off in the long run. Homebuyers consider hardwood floors very important when looking for a new home. Providing this feature might be a determining factor between your home and someone else's.
Choose the Right Countertop
When it comes to classic countertops, one type comes to mind. Carrara marble. It's been used in homes for thousands of years and will continue to be used for the next thousand. The subtle white colors with intricate graining look great in any kitchen. An added bonus is the availability compared to other minerals, creating a cost efficient investment.
Install Subway Style Backsplash
Using subway rectangle tiles creates a classic backsplash and looks great in any kitchen. Neutral colors can blend with any design you want, maximizing your resale value. Also consider using grey or beige grout to provide an accent color.
Create Efficient Storage
What everyone needs out of a kitchen is functionality. Make sure you have sufficient space for kitchen utensils. Having an island with a wine rack, or a walk in pantry provides enough storage for your kitchen supplies.