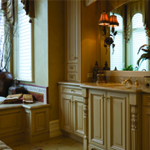 Renovating your bathroom is a great way to add value to your home. Follow this list of features to get the most out of your bathroom renovation budget.
Walk In Shower
Having a walk in shower with no curb is growing in popularity, for good reasons. They are both stylish and safe. As people age, ease of access is important. With no steps to stumble over, it's a very attractive option with large resale potential.
Heated Ceramic Floor
Ceramic tile is timeless, waterproof and good looking. Add radiant heating underneath your tiles to complete your flooring. It's extremely easy to market a home with heated flooring, and it doesn't add much to the energy bills.
Exhaust Fan
The most requested feature in a bathroom is a simple exhaust fan. It beat out any other feature, and it makes sense. It prevents mold from growing and keeps hot air out of your house. Make sure the fan leads outside instead of into an attic to keep moisture out.
High Efficiency Dual Flush Toilet
Saving water is one of the most sustainable ways to help the planet. By law, toilets can only use 1.6 gallons per flush, with some states enforcing even more strict requirements. Having a dual flush toilet can use even less water overall and save you more money in the long run.
Calm Colors
Keep your bathroom colors calming to create a private sanctuary. This doesn't mean you can't personalize it with a few accent colors, but having a white or off white coloring will have a more relaxing feeling, which appeals to potential buyers.