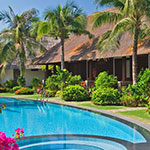 Vacation home sales are on the rise, with many people buying for a vacation home to use now and retire to later.
Second home buyers tend to be in their 40s and 50s, are still working, have children who are starting their own families and no obligations to care for aging parents. They are using their vacation home as a meeting place to gather everyone during holidays or other significant family holidays.
When the home isn't being used, it generates rental income. In some locations, the rental fees can completely cover the mortgage, taxes and fees of homeownership, giving you a vacation home for free that can eventually become your second home in retirement.
Purchasing a vacation home where you'd eventually like to retire allows you to establish community ties for a smooth transition into retirement later. It's also a great trial run. It gives you a glimpse into where you might want to spend your golden years before the time arrives and you have to make a firm commitment.
There are also financial benefits to owning a second home. First is the appreciation that will happen over time, especially if you purchase in a popular resort area. However even modest appreciation over time is acceptable given all the benefits of second home ownership.
Mel Foster Co.'s relocation division has connections to help you find a second home anywhere in the world. Contact a relocation specialist at 800-367-1134.