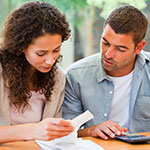 One of the smartest things you can do before buying a home is getting yourself pre-qualified. By getting pre-qualified, you'll get an idea of what your mortgage might cost, ahead of time. This can help you prepare your budget, set your expectations and strengthen your confidence to negotiate when you're ready to make an offer.
What is pre-qualification?
Pre-qualification gives you an estimate of what you could potentially borrow. It is based on information you give on your income, assets and credit. Many times a pre-qualification can be done online and is offered by many lenders at little to no cost. It is however just an estimation, and not a guarantee of any type of loan.
Why get pre-qualified?
Once you know how much of a monthly payment you are able to afford, and you've figured out a budget for yourself, a pre-qualification will allow you to estimate a loan option to fit your needs. You'll also have a better idea of which homes you can afford during your search.
What documentation do I need in order to get pre-qualified?
You will need proof of income, this could include recent pay stubs, or W-2 statements from the past two years. You should also bring a copy of your tax return for the past two years, as well as proof of any alimony or additional income. You'll also want to bring proof of your assets, including bank account statements to show you have the money for a potential down payment. Don't forget your driver's license and social security card, as the lender will need these to access your credit report.
Pre-qualification can help you be fully prepared to purchase that home you've been eyeing. You can get a head start by using the mortgage calculators to determine your monthly payment, figure out how much home you can afford and make a decision about renting versus buying.