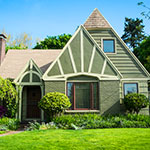 Call it recycling on a grand scale. Homebuyers who want their purchase to be more environmentally friendly are turning to older homes instead of building new. In fact, architect Carl Elefante coined the phrase, "the greenest building is the one that is already built." What he meant by that is that environmental resources that would be used to build a building's replacement are often times spared by restoring or repurposing an existing structure.
Did you know that it can take up to 80 years for a new, energy-efficient building to overcome the energy and climate change impacts caused during the construction process? Building reuse offers significant environmental savings when compared to the energy consumption of demolition and new construction.
Older buildings constructed prior to reliance on mechanical heating, cooling and lighting systems utilize what nature offers as part of their design. This can help reduce your energy use, helping you save on heating and cooling your home.
Go green and consider purchasing an older home that just needs a little TLC. Use the option to search by Year Built by clicking here to find a home you can recycle.