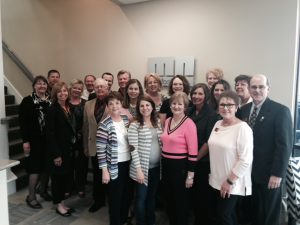 Mel Foster Co. Real Estate Brokerage in Geneseo had a re-opening of its downtown office on Wednesday, April 8. The interior spaces of the office were completely remodeled to accommodate technology upgrades and improved communication tools.
Fred Dasso, managing broker of the Geneseo office said, "With this office concept and remodel project, we are happy to provide a 'boutique-like' experience for our clients and Realtors®."
The newly designed boutique-style space, in the heart of downtown Geneseo on State Street, features a spacious seating and conversation area with a large flat-screen display where guests can explore real estate options with an agent.
Lynsey Engels, Mel Foster Co. president, Real Estate Brokerage, said, "Mel Foster Co. is continuing to stay current with industry trends to help agents work more efficiently and comfortably in an office setting. Our Galesburg office was converted into a boutique-style space last year and the feedback we received from agents and visitors made us eager to duplicate that success in Geneseo. Our agents can take advantage of rapidly changing technology within the office and meet with guests in a location that enhances communication to create a better experience for those looking to buy or sell a property."