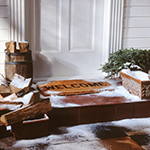 Many homeowners feel it's a good idea to wait until the spring to sell their home. But once the busy holidays are over, it might be time to get your house ready to sell before competition heats up in the spring. Here are four appealing reasons you should consider listing soon.
Serious Buyers are Available
Homes are sold 365 days a year. People move into the area, expand their families or decide to downsize at all times of the year. There are always homebuyers looking for their dream home. And it might just be your listing.
Less Competition
There are typically more listings in the spring, so list your home in the winter to stand out in the crowd. By avoiding the tougher competition in the spring, your home is more likely to be visited by prospective buyers during showings, giving you more exposure than you'd receive in the spring.
Mortgage Rates are Still Low
If you're interested in buying and selling property, you probably keep a close eye on mortgage rates. And noticed the recent uptick. Even with the recent increase, mortgage rates are still very low.
A Faster Transaction
Finally, the time required to close on a home will most likely be shorter in the winter. Inspectors have fewer appointments, attorneys have less work to do and mortgage lenders have fewer loans to process. You'll most likely be able to have meetings on your schedule instead of theirs and get to closing faster. One of the most frustrating things as a seller is not getting answers or having to extend closing another 15 or 30 days. Winter gives you more control over the closing date and may save you from making an additional mortgage payment.
Looking for an agent to list your home this winter? Click here to find an agent or office near you.