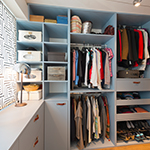 If your resolution this year is to get organized, avoid these common mistakes. You'll be more efficient and less stressed by maintaining order in your home.
Mistake #1 Confusing Neat with Organized
Having piles neatly lined up on the counter unfortunately doesn't mean you are organized. If your flat surfaces seem to constantly be filling with clutter, designate a spot in your home for each item. Soon you'll start to notice the piles will appear less frequently.
Mistake #2 Using the Fridge as a Message Center
It may seem like the central hub of your house, but everyone goes to the fridge for food not information. Homes need a place where everyone goes for messages. Instead of cluttering your fridge with notes, messages and reminders, create a bulletin board where everyone knows they can find any updates they need.
Mistake #3 Too Many Storage Bins
Having too much storage is actually an issue, especially if you aren't using it efficiently. You may be replacing your clutter with larger and boxier clutter by adding so much storage. Instead, consider reorganizing the storage you currently have. If you can take the storage bins you have and organize them in a closet or cabinet, you'll be able to utilize all of your storage effectively.