After the historic bursting of the proverbial real estate bubble brought the U.S. economy crumbling, the U.S. housing market has been on the rebound in recent years. Several factors come into play when forecasting the real estate market's growth and change in the next five years
Home Values and Appreciation
In a survey done by Pulsenomics, the annual appreciation will be 3.94% over the next 5 years and the cumulative appreciation will be 19.7% by 2018. The survey also found that home values will appreciate by 4.5% in 2014.
Home Prices
Studies show that in some select markets, such as San Francisco, home prices may rise as much as 3% over the next 5 years. However, due to investors selling off their inventory, prices overall are forecasted to drop slightly over the same time period.
Mortgage Rates
According to CBS's MoneyWatch, mortgage rates may be likely to rise, however a mortgage will be easier to secure for an average homebuyer. The rising rates will force lenders to loosen their lending standards. There was also a new federal rule that came into play in early January affecting mortgage standards.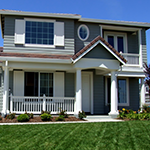 The National Association of Realtors classified 2013 as a low inventory year, however it is projected that available home numbers have rebounded, allowing buyers a better selection and opportunity. This is only going to improve over the next five years according to current rising trends.
Fading Foreclosures
The increase in inventory will give way to a decrease in foreclosures. Between November 2011 and November 2012, when inventory was at a high point, mortgage delinquency rates fell from 7.83% to 7.12%. It is projected that in the next five years those rates will continue to decline.