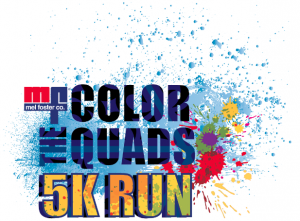 Mel Foster's Color the Quads 5K and Kids Color Dash will be back in 2015 with a twist or two, and registration is opening early to give participants plenty of time to sign up and opportunities to save with early entry.
The Color the Quads 5k will take place Saturday, May 30, 2015 at 4:00 p.m., Cumberland Square at 2300 Spruce Hills Dr., Bettendorf, Iowa. The early registration fee is $35 until February 20, and changes to $40 for participants after February 20, and $45 for participants the week of the race. Easy group registration and rates are available at www.colorthequads.com.  The registration fee includes race entry, t-shirt, XPAC pre-race color explosion, invitation to the Tri-City Electric Co. after-party and swag bag. Registration opens with the early discounted rate on Thursday, January 15, 2015 at www.colorthequads.com.
The American Bank & Trust Kids Color Dash cost for all entrants is $20. This 400-yard dash and one mile fun run is at 11:00 a.m. on May 30, 2015 at the Veteran's Memorial Park (Band Shell area) in Bettendorf. There will be a kids' after party with food sponsored by Tyson Fresh Meats and fun for children and their families.
Color the Quads is a unique race that allows runners and walkers to get blasted with bursts of color powder on the course. There are two new color race stations being added in 2015, increasing the colorful fun.  At the foam station, participants can run or walk through walls of colored foam. At the new "paint" station, volunteers will have fully loaded squirt guns to color every runner/walker.  Runners and walkers will also enjoy more music around the new route.
The 2015 Color the Quads event benefits three local organizations, Bethany Home for Children & Families, Gigi's Playhouse, and Hand-in-Hand. The event brings colorful happiness to our community AND helps out local charities.
Mel Foster Co. is the presenting sponsor and American Bank & Trust is the kid's race sponsor. The pre-color explosion is sponsored by XPAC and the after party is sponsored by Tri-City Electric Co. The event's color explosion sponsors include Active Endeavors, University of Iowa Community Credit Union and Vollertsen, Britt & Gorsline P.C.  Color Burst sponsors include Build to Suit, Hawkeye Paving, KWQC-TV 6, Pear Advertising, Prairie Pella Windows & Doors, Quad City Times, Radon Solutions, Terrostar Interactive Media, Victorystore.com, Mickle Communications, Tyson Fresh Meats and TMI Total Maintenance Inc.  Additional sponsorship opportunities are still available.
For more information, to sign up, to volunteer, or to become a sponsor, visit www.colorthequads.com.